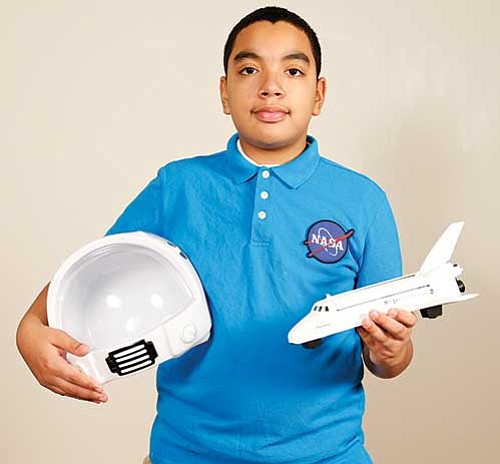 Alex, a Timilty Middle School 8th grader, in a self-portrait showing him as pioneering Mexican-American Astronaut José Moreno Hernández. The portrait project was part of an "Unhidden Figures" class, part of TCP's Creative Classrooms program, in which students studied Latinx and black inventors, scientists and mathematicians and created portraits to honor their untold history.
Stories this photo appears in:

Merger aims to create pipeline to creative economy
The merger of two Boston-based social enterprises has created an organization with new capacity to propel youth and adults toward success in entrepreneurship and the creative economy. Epicenter Community, formerly Future Boston Alliance, is known for its signature programs Accelerate Boston, a mentoring and training cohort program for aspiring entrepreneurs, and Assemble Boston, a series of cultural and social gatherings connecting diverse individuals and groups across the city. Transformative Culture Project, which began in 2008 as Press Pass TV, focuses on young people, supporting community-based arts organizations, offering training in arts and media production in schools across Massachusetts and running a youth-staffed production agency.