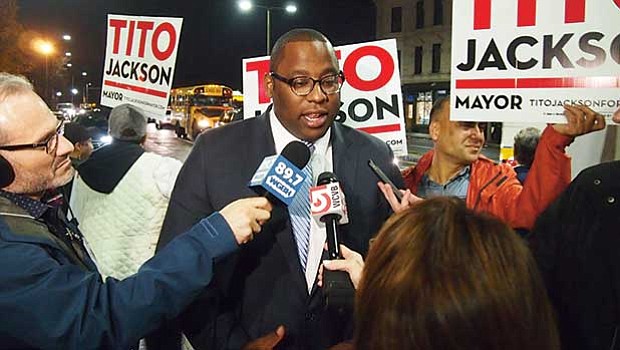 District 7 City Councilor Tito Jackson speaks to reporters in Dudley Square on the eve of Tuesday's election.
Stories this photo appears in:

Challenge failed to beat power of incumbency
Mayor Martin Walsh's victory in the Nov. 7 election came as no surprise to most observers. With slim odds of beating an incumbent mayor and with Walsh enjoying a $4 million war chest, Jackson, who never had more than $101,000 on hand, was outgunned. But through his challenge to the sitting mayor, Jackson has pushed tough conversations on race and economic inequality in a city of 673,000 where most residents no longer cannot afford the rising cost of housing. The conversation, held in campaign forums, the two debates between Jackson and Walsh and in the city's news media, forced Bostonians to take a hard look at their city.