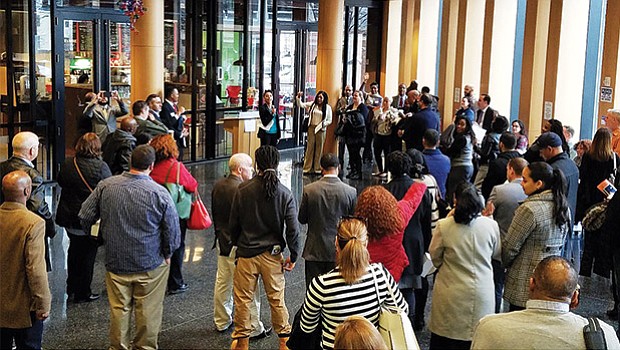 Small business owners gather at the Bolling Building in Roxbury for a certification workshop hosted by the Mayor's Office of Economic Development and attended by City of Boston procurement liaisons.
Stories this photo appears in:

City offers an array of programs to help local entrepreneurs
Mayor Martin J. Walsh and the Office of Economic Development aim to promote a healthy environment for businesses of all types and sizes, while fostering economic inclusion and equity. The over 40,000 small businesses in the City of Boston create jobs, wealth and opportunity for the city's workers and residents. Small businesses also strengthen the city's neighborhoods by providing goods and services and contributing to our social and civic life. As a critical engine of Boston's economy, small businesses generate more than 170,000 jobs for Boston residents. Walsh has prioritized providing business owners and entrepreneurs with the tools and guidance needed to grow their bottom lines, increase capacity and thrive in a dynamic marketplace.