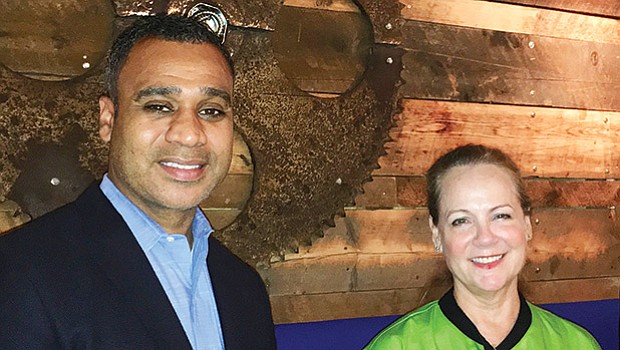 La Fábrica Central co-owner Dennis Benzan and Executive Chef Giovanna Huyke in front of the 400-pound steel trapiche shipped from a Dominican Republic sugar factory.
Stories this photo appears in:

The logo of La Fábrica Central, the new Spanish Caribbean restaurant and live music spot in Cambridge's Central Square, features a trapiche, the type of wheel that grinds sugar cane into molasses. La Fábrica means "the factory," and the symbolic logo, along with an actual 400-pound steel trapiche shipped from the Dominican Republic to Cambridge to adorn La Fábrica's dining room wall, pay homage to the workers who toil in the Caribbean islands to produce sugar, molasses and rum.