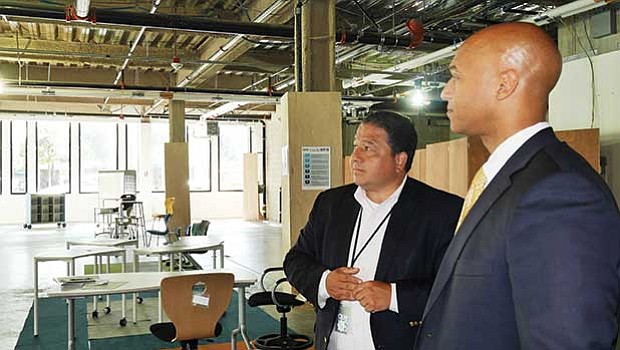 John Barros, the city of Boston's chief of economic development, and BPS Chief of Staff Rob Consalvo in the vacant 7,800-square-foot space at the front of the Bolling Building. With a new request for proposals, the city hopes to find a viable restaurant tenant for the site.
Stories this photo appears in:

The city of Boston is once again seeking a full-service restaurant tenant for the large vacant space at the front of the Bruce C. Bolling Building in the heart of Dudley Square. Finding the right restaurateur-tenant for the prominent location is critical to an enlivened Dudley Square, say experts and community stakeholders. Its two-year vacancy underscores the challenges in bringing new economic vitality to a square that has served as a commercial hub for a largely low-income neighborhood.