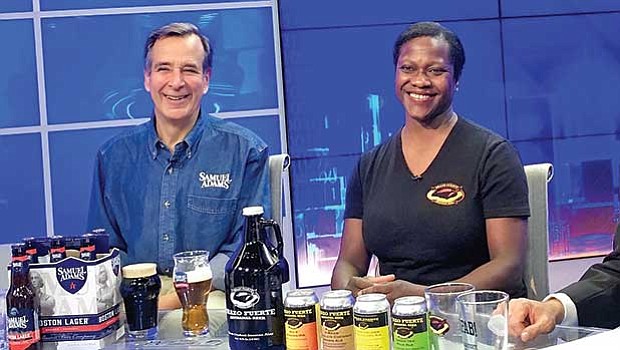 Bev Armstrong, founder of Brazo Fuerte Artisanal Beer, with Jim Koch, founder of Boston Beer Co., in an NECN interview about the 2017 Samuel Adams Beer and Business Experienceship awarded to Armstrong.
Stories this photo appears in:

Attorney leaves corporate world to open craft brewery
Bev Armstrong, founder, CEO and head brewer of Brazo Fuerte Artisanal Beer, knows her career path is unusual. The Harvard-educated attorney and MBA made a "complete left turn" into entrepreneurship, hanging her shingle as a fulltime craft beer brewer in 2016, following a 15-year stint in the biotechnology industry in such high-level roles as CFO, general counsel and VP of operations.