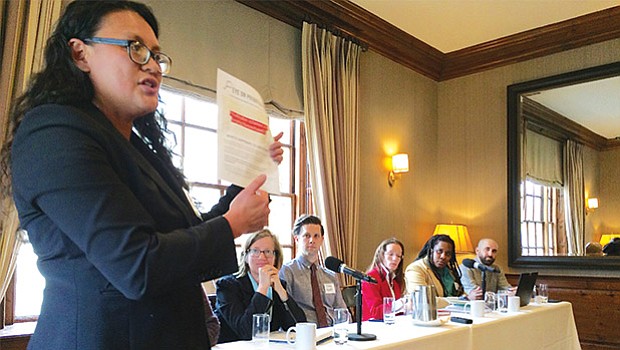 Darlene Lombos, executive director of Community Labor United, speaks at a Nov. 22 panel discussion on the privatization of government services in Massachusetts. Panelists included (l-r) Abby Scher of Political Research Associates; Jeremy Mohler of In the Public Interest; Neenah Estrella-Luna of Northeastern University School of Public Policy and Urban Affairs; Nia Evans of Boston NAACP; and Chris Faraone of the Boston Institute for Nonprofit Journalism. Not shown: moderator Elena Letona of Neighbor to Neighbor.
Stories this photo appears in:

From the MBTA's recent outsourcing of its cash-counting operations to the heavily-funded campaign to lift the cap on charter schools, Massachusetts is witness to a push for greater privatization of services that traditionally have been public, or government-provided.