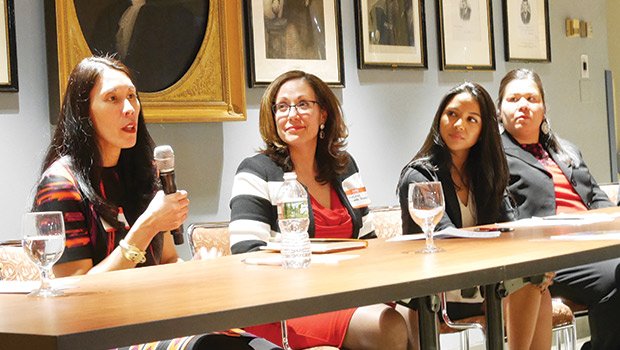 A panel of Latina leaders discussed economic prosperity strategies at the Latinas Think Big summit April 12. (l-r) Betty Francisco, founder and president of FitNation Ventures; Vanessa Calderón-Rosado, CEO of Inquilinos Boricuas en Acción; Judith García, Chelsea city councilor; Monica Ramirez, director of the National Hispanic Leadership Agenda; and Erika Carlsen, program manager at the HKS Gleitsman Fellowship and Latino Initiative. Not shown: panelist Nathalie Rayes, public relations director for Grupo Salinas, and moderator Marcela Garcia.
Stories this photo appears in:

Summit covers prosperity barriers and solutions
Latinas Think Big, a global network and online platform aiming to advance Latinas' ventures and careers, held a national summit last week in Cambridge. The event centered on the topic of racial and ethnic wealth disparities and potential pathways to economic prosperity for Latina women in light of the wealth gap.