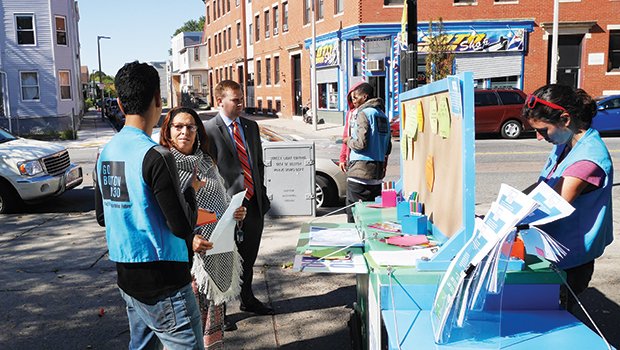 A Go Boston 2030 representative discusses transportation ideas with Codman Square neighborhood resident Daisy Ramos at an "Ideas on the Street" pop-up cart in front of the Codman Square Library.
Stories this photo appears in:

How will Bostonians get to work and move around the city in the future? Looking ahead to 2030, how might transportation improvements address challenges already evident today — a growing, diversifying and aging city population, increasing income inequality, congested streets and an overburdened public transit system? The City of Boston has been pondering these questions, with the help of an advisory group and public input from thousands of Hub residents and workers, for much of 2015. Last week, its "Go Boston 2030" initiative reached an interim milestone as Mayor Martin Walsh and the Boston Transportation Department released a report outlining a vision and goals.