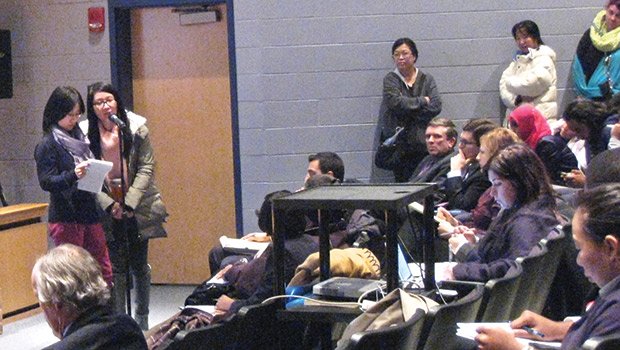 Assisted by a Chinese interpreter, a Boston Public School parent voices her priorities for a new school superintendent at the Lilla G. Frederick Pilot Middle School Jan. 12.
Stories this photo appears in:

Finalists to be introduced in February forums
At a public forum held this week by the Superintendent Search Committee, attendees learned that some 70 people have applied for the Boston job, filled by interim Superintendent John McDonough since Carol R. Johnson's retirement in 2013. Forum moderator Bob Gittens explained that this large applicant pool has been reviewed and narrowed with the help of the executive search firm Hazard, Young, Attea & Associates. A winnowed-down group of applicants will be interviewed by the Search Committee in the next few weeks, and by early February, three final candidates will be referred to the School Committee and Mayor Martin Walsh.