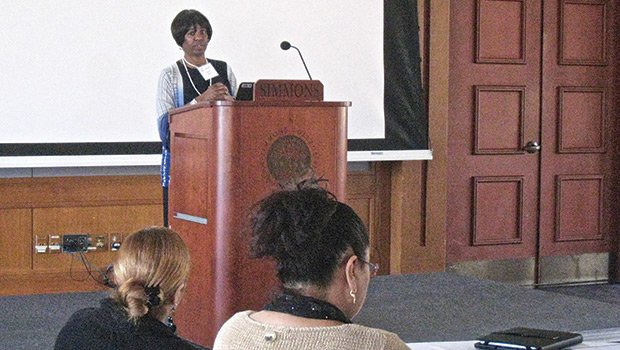 Deborah Hughes, CEO of Brookview House, speaks at an April 24 conference on addressing the needs of school age children experiencing homelessness. The event at Simmons College was co-sponsored by Brookview House and Simmons College School of Social Work.
Stories this photo appears in:

Mental health, brain development suffer
Homelessness-related stress and trauma plays a role in poor maternal health and poor parenting, which then affects child development, said Carmela DeCandia, who is co-author of a recent report on family homelessness. Ninety-three percent of homeless mothers have a history of trauma. Thirty-six percent are suffering some sort of post-traumatic stress disorder — triple the incidence of PTSD in the general population of women. These conditions are often factors in substance abuse and depression.