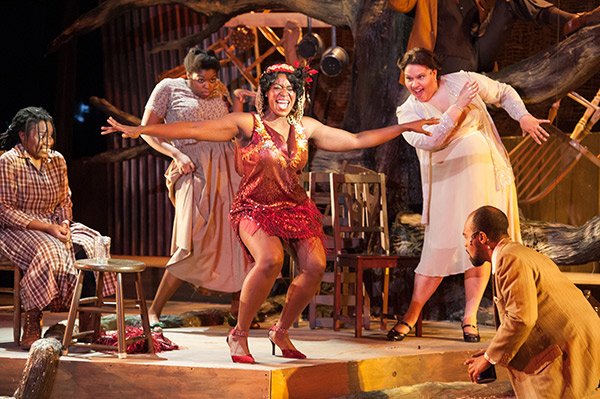 Crystin Gilmore (center) as Shug Avery with (l-r) Lovely Hoffman, Taylor Washington, Carolyn Saxon and Maurice Emmanuel Parent in a scene from the SpeakEasy Stage Company production of "The Color Purple," running through Feb. 8 at the Boston Center.
Stories this photo appears in:

Celie, the lead character in the musical "The Color Purple," which is playing in Boston at the Speakeasy Theater until Feb. 8, is stuck throughout most of her life in a suffocating reality. She comes from an uncomfortable past — a poor black child of the postbellum South whose father was lynched, whose mother was helpless and subjected to spousal betrayal, and whose stepfather molested her. By age 14, Celie is illiterate and already the mother of two babies.