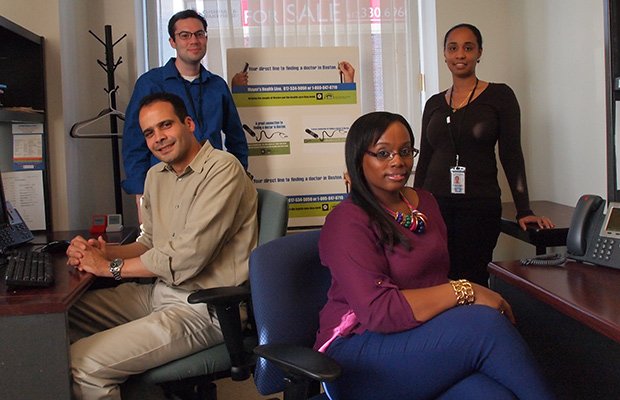 The Boston Public Health Commission and the Mayor's Health Line are reaching out to Boston's uninsured. The Mayor's Health Line has certified "navigators" trained to help people enroll in new health-care insurance plans that are part of the Affordable Care Act. (Left to right) Javier Gutierrez (navigator), Bradley Moore (project manager), Beatrice Martin (navigator), Sujay Bernardino (administrative assistant). (Yawu Miller photo)
Stories this photo appears in:

The Boston Public Health Commission hit the ground running last week with efforts to help the uninsured in the city enroll in the many health-care options that are part of the newly implemented Affordable Care Act. BPHC was given $300,000 from the Massachusetts Health Connector, which was used to add staff members and train others to make sure people choose the best health-coverage plan.