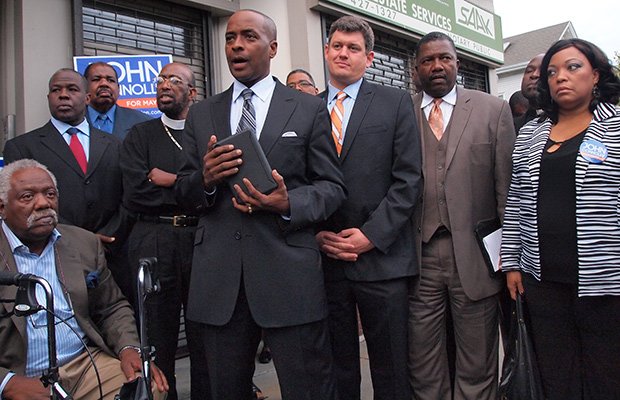 Pastor William Dickerson gives his endorsement to City Councilor John Connolly in his campaign for mayor. Looking on are Thomas Cross (seated), Connolly (center), Miniard Culpepper (second from left) and Robin Charlton (left). (Yawu Miller photo)
Stories this photo appears in:

State Rep. Marty Walsh turned up the heat in the mayoral race, kicking off last week with a one-two punch — endorsements on Tuesday from former candidates Felix G. Arroyo and John Barros. Boston City Councilor John Connolly began his fusillade of endorsements, Wednesday with Rep. Aaron Michelwitz, whose district includes the North End and Back Bay, City Councilor Sal LaMattina and Everett Sen. Sal DiDomenico, whose district includes East Boston and the North End East Boston.