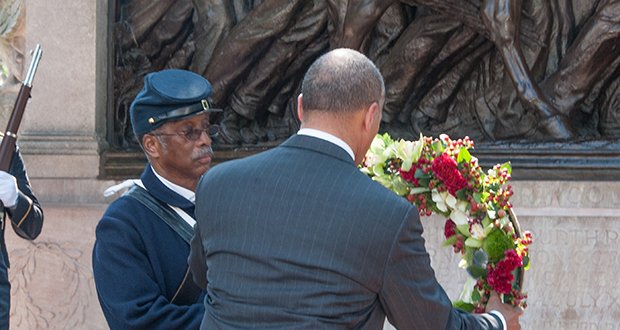 On July 18th the Commonwealth celebrated the Massachusetts 54th Volunteer Infantry (a mostly all Black regiment)  who fought and died in the quest to take Fort Wagner, South Carolina during the Civil War on July 18, 1863.
Gov. Patrick places a wreath in front of the Memorial for the 54th Volunteer Infantry Regiment
 
Stories this photo appears in:
The 54th Massachusetts Volunteer Regiment, conceived in controversy,earned its laurels as the most storied black unit of the Civil War during a daring assault on a heavily fortified Confederate battery 150 years ago.The attack was suicidal, the battle brief. When it was over, one half of the regiment lay dead in the sands of Morris Island or on the ramparts of Fort Wagner.