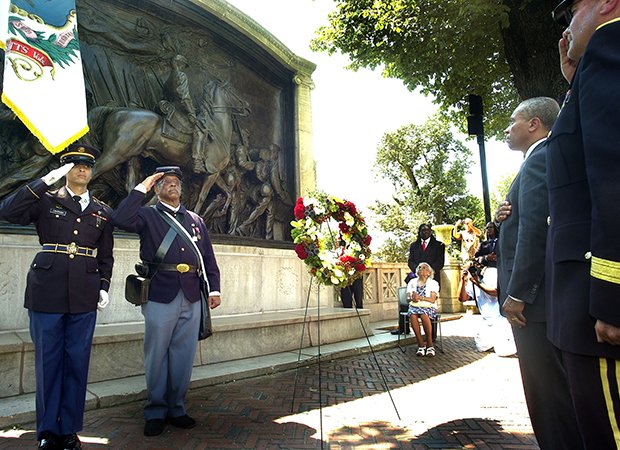 The 150th anniversary of the first black Union regiment's attack on Fort Wagner in South Carolina was celebrated at the State House in Boston July 18. Among the speakers was Governor Deval Patrick, who laid a wreath in front of the Robert Gould Shaw Monument, dedicated to the memory of the 54th Regiment. Seated center is Winifred Monroe, the only living granddaughter of Henry Monroe, who was a 13-year-old drummer boy on that fateful day.
Stories this photo appears in:
The 54th Massachusetts Volunteer Regiment, conceived in controversy,earned its laurels as the most storied black unit of the Civil War during a daring assault on a heavily fortified Confederate battery 150 years ago.The attack was suicidal, the battle brief. When it was over, one half of the regiment lay dead in the sands of Morris Island or on the ramparts of Fort Wagner.