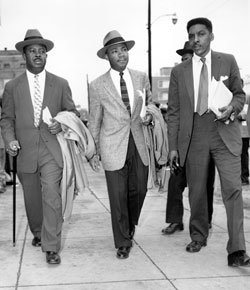 The Rev. Ralph Abernathy, left, Rev. Dr. Martin Luther King Jr., center, and Bayard Rustin, leaders in the racial bus boycott in Montgomery, Ala., leave the Montgomery County Courthouse on Feb. 24, 1956. The civil rights leaders were arraigned along with 87 other black activists. Thousands of supporters walked in protest against the mass indictments and arrests.
Stories this photo appears in:

The "New York Times v. Sullivan" case redefined libel and enabled the press to cover the Civil Rights Movement without...