'Islandborn' taps the immigrant imagination
author junot díaz discusses debut children's book
3/28/2018, 12:57 p.m.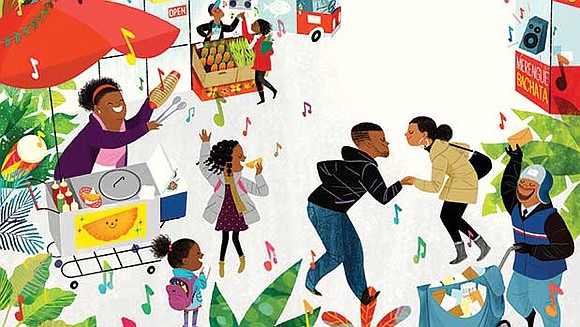 On Sunday afternoon, Harvard Book Store hosted Junot Díaz, renowned author, MacArthur Fellow and professor of creative writing at MIT, for a sold-out book talk at the Brattle Theatre. His subject was not one of the books that have earned him such awards as the Pulitzer Prize and National Book Critics Circle Award. Instead, Díaz was there to talk about and read from his debut children's picture book, "Islandborn."

On the web
For more information about Junot Díaz, visit:
The sunny, tropical images in "Islandborn," which is also available in a Spanish language edition, were created by Leo Espinosa, an award-winning illustrator and designer from Bogotá, Colombia.
Born in the Dominican Republic and raised in New Jersey, Díaz sets the story in an urban neighborhood of brownstones and street vendors. A young girl, Lola, attends a "school of faraway places," in which all the children are immigrants. Her Asian-American teacher invites the class to draw a picture of their first country. Lola left her island when she was a baby, and has no memory of the place. She and her teacher come up with a plan: she'll ask family members and neighbors about their memories.
Notebook in hand, Lola imagines her island as she hears about bats "as big as blankets," ceaseless music and dancing, sweet mangoes "the size of your head," and rainbow colors everywhere, from cars and houses to people.

A darker side emerges when Lola interviews Mr. Mir, her building superintendent, whose tale of how a monster invaded the island for 30 years could be a parable of Rafael Trujillo's dictatorship of the Dominican Republic — or a story of any bully. Mr. Mir tells her that brave women and men found the monster's weakness, rose up and drove it away.
In his portrayal of how Lola transforms what she hears into her own images and words, Díaz offers a captivating celebration — and practical role model — of creativity and the magic of imagination.
What his story leaves untold is why, after facing down the monster, the people left their beautiful, beloved island? But perhaps this is a question of an adult reader, not a child.
A warm, animated conversationalist with a sense of humor, Díaz said, "I'm a teacher by trade," as he introduced himself. He asked all who were immigrants in the audience to raise their hands, and most did, including this reporter, the daughter of Italian immigrants who arrived early in the 20th century. All cheered when he said that we should reclaim the word, which has been "defiled by anti-immigrant racism." Díaz then asked audience members to raise their hands if they were Latino (about one-third), of African descent (10 people), from the Caribbean (six) and from his country, the Dominican Republic — the smallest but loudest contingent, they responded with a cheer.

After reading a few pages from the book projected on a screen behind him, Díaz invited questions, starting first with the kids in the packed theater.

One asked him about Mr. Mir, the building superintendent. Díaz described him as the kind of everyday hero who does the jobs we take for granted — handing us our coffee and mopping the floor. Another asked, "What was the monster's weakness?" Díaz replied that what the monster feared most was the power of "people sticking together."
A girl asked if it was hard to write the book. Díaz replied that it would have been much easier to write it when he was a child. "You have so much magic in you now. I took two years. A six-year-old would knock it out in a half-hour."
Encouraging children of color to write their own stories and tap the power of their inborn creativity, Díaz concluded by taking a turn into advocacy.
"About 94 percent of children's literature is written by white authors," said Díaz, calling the dearth of literature about and by people of color "a representational crime." Observing that "global whiteness" consumes a disproportionate share of the world's resources, including its cultural wealth, Díaz concluded by saying, "If we don't shift this paradigm, we have no future."
At the end, a long line formed for signed copies of "Islandborn" and photo ops with Díaz, who asked parents with children to come first.