Vying for greater growth
General contracting company poised for bigger projects
Karen Morales | 3/7/2018, 10:56 a.m.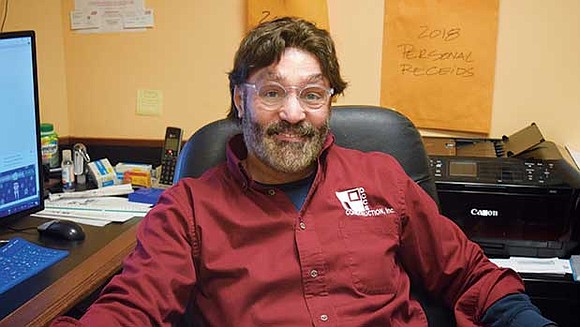 Cesar DaSilva has pictures of his company's design and construction projects, the blueprints and sketches as well as the completed ones, covering the walls at the Design Construction Consulting Services, Inc. office. The firm has provided design, construction and consulting services, as well as renovation and restoration, for residential and commercial properties since 1990.
He points to and talks about each project with a sense of pride, especially the one that now houses DCCS: a property on Howland Street in Dorchester that he bought from the city for $50,000 in 1999 and then renovated into his new home and office space.
"It was abandoned for twenty-something years," said DaSilva of the three-story Victorian-style house that was once a nursing home. "It was an eyesore to the community."
Today, the house would fetch twenty times the original selling price, on par with the housing and construction boom in the neighborhood and the rest of the city — and the entrepreneur wants in on that boom.
Scaling up
DaSilva moved to Boston in 1979 from Cape Verde at age 17, finishing high school at Madison Park High School and then graduating from Wentworth Institute of Technology with a degree in architecture.
Before starting his own venture, he worked for various architecture and construction companies, the city of Boston and local organizations such as Dudley Street Neighborhood Initiative.
"This country gives opportunities to people like myself from parts of Roxbury or Dorchester, where people say are 'disadvantaged' areas, but also have a lot of advantages to some of us who are immigrants," said DaSilva.
He started DCCS with his own savings, moving from one small project to the next and keeping operating costs minimal by operating out of his home and subcontracting labor. Before long, "The word of mouth kept it going," DaSilva said.
Since then, DaSilva said his company has grown modestly, with his staff team comprising himself, a designer, an accountant and five carpenters. "We sub out when we need a bigger crew," he added. But he emphasized that all of his workers, even his subcontractors, are local to the neighborhood or the city.
The company's main selling point is efficiency. "We bring anybody we need to get things done," DaSilva said. He explained that if an owner of a property wants to renovate his home, he'd have to hire an architect, then hire a general contractor to price the project, go back to the architect to implement any adjustments, and then get the permits and hire other contractors to complete the labor. "With us, it's with one contract, one agreement," he said. "We are a team of designers, builders, zoning permit experts, all in one company."
DCCS, a certified Minority Business Enterprise, has worked on projects for clients like Boston College, Northeastern University, Codman Square NDC and Nuestra Comunidad CDC, and one of its biggest projects was a $600,000 contract with Madison Park Village in 2016. DaSilva said he hopes to do more of the larger scale projects.