2018 elections bring out expanding cast of candidates
DA departure sets off political chain reaction
Yawu Miller | 3/7/2018, 10:39 a.m.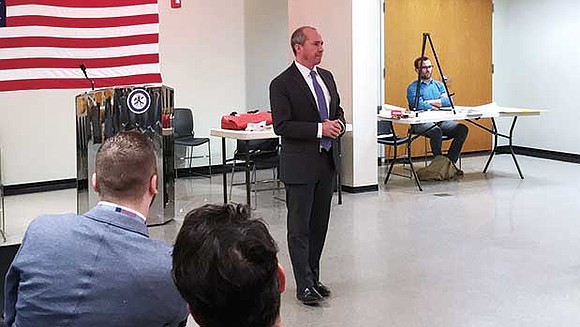 DA and other races
Turnout may also be crucial for the three declared candidates for the Suffolk County district attorney seat: Carvalho, former defense attorney Shannon McAuliffe, and prosecutor and former teacher Greg Henning. All three are running on reform platforms that emphasize criminal justice reform.
"The role of a prosecutor has changed," says Henning. "I believe a DA makes a difference. But the only way to make that difference work is to know how the system works."
Carvalho, who has been criss-crossing the district, which includes Boston, Chelsea, Revere and Winthrop, says the position can play a critical role in effecting the criminal justice reforms he has championed as a member of the Massachusetts Black and Latino Legislative Caucus.
"The criminal justice system as a whole heavily impacts people of color," he said. "I've seen it as a prosecutor, as an elected official and as someone who grew up here."
Also said to be mulling a run are former state and federal prosecutor Rachael Rollins, who is a past president of the Massachusetts Black Lawyers Association, and At-large City Councilor Michael Flaherty.
Turnout will also be key to the political future of At-large City Councilor Ayanna Pressley, who is taking on incumbent U.S. Rep. Michael Capuano in the 7th Congressional District,
As for the gubernatorial race, the three Democratic candidates — former Secretary of Administration and Finance Jay Gonzalez, activist and author Bob Massie, and former Newton Mayor Setti Warren — are making rounds at Democratic Caucus meetings, seeking support for delegates to the party's state convention.