2018 elections bring out expanding cast of candidates
DA departure sets off political chain reaction
Yawu Miller | 3/7/2018, 10:39 a.m.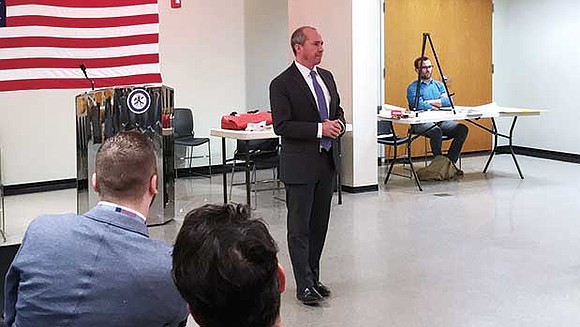 A year ago, the ACLU launched a nation-wide campaign called "What a difference a DA makes," highlighting the impact district attorneys have on the functioning of criminal justice system and the importance of voters making the right choice in the often-ignored races for the position.
In Boston, where the abrupt notice that longtime District Attorney Dan Conley would not seek re-election has so far drawn in three committed candidates, the motto for political observers might as well be "What a difference a departure makes."
With a special election looming for the 1st Suffolk Senate district seat recently vacated by Linda Dorcena Forry, Conley's surprise move may mean a cake-walk for South Boston state Rep. Nick Collins, who now has no opposition for the senate seat on the Democratic or Republican ballots. Rep. Evandro Carvalho, a former Suffolk County prosecutor, withdrew from the 1st Suffolk race to pursue the DA seat.
While the 1st Suffolk race will be a special election, which means Carvalho could have hung onto his 5th Suffolk House seat in the event he didn't prevail, the race for district attorney coincides with House and Senate races, meaning Carvalho has had to pull out of his re-election campaign.
5th Suffolk race
Carvalho's 5th Suffolk district has long been a hotbed of political activity, with frequent turnover and a host of perennial candidates adding color and controversy. On those last two points, the 2018 electoral season won't disappoint.
So far, three Democrats have pulled papers: political activist Ceferina Murrel, who served on Dorcena Forry's Senate staff; perennial candidate Rev. Roy Owens, and Brad Howze, a registered sex offender who lives at Owens' address.
Howze, who in 2002 was convicted of the rape of a 13-year-old girl, lists himself as a pastor at the New Sinai House of Prayer. He says he's not completely sure he's running.
"I don't know if it's definite," he said. "I just pulled papers."
Also running for the seat as an independent is Stephen A. Wise, who ran for the District 7 City Council seat last year, securing just 64 of the 6,136 votes cast in the preliminary. Others considering but not yet committed to the race include former school teacher and Democratic Party activist Barry Lawton and union organizer Darrin Howell.
1st Suffolk — two contests in 2018
While Nick Collins will likely sail into the 1st Suffolk seat with little resistance during the special election, he'll be facing off against one of the city's most tenacious and least successful campaigners in the fall regular season election: Althea Garrison. Garrison, who has run for a wide range of state and municipal offices since the 1980s, won election to the 5th Suffolk seat in 1992, after a court challenge of incumbent Rep. Nelson Merced's nomination papers. She served one term.
Ward 15 Democratic Committee co-chairman Ed Cook said Garrison would likely pose little threat to Collins.
"Nick has all of Irish east Dorchester — Southie, Savin Hill and Neponset all the way to Lower Mills," he said. "They turn out."