Violist's career forever linked to MLK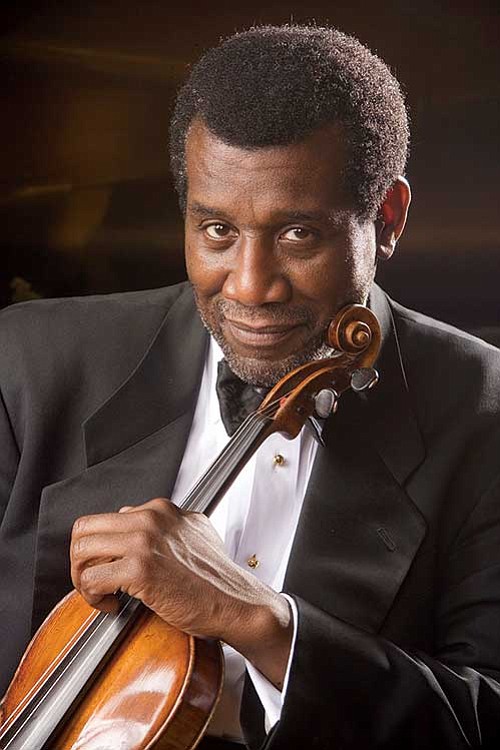 Conducted by MIT professor Evan Ziporyn, a Grammy-winning composer and performer who heads Music & Theater Arts at MIT, the 18-member MIT Chamber Chorus delivered the composition's wordless harmony in shimmering currents while an ensemble provided textured accompaniment that included the delicate, bell-like chimes of a celesta, rippling cymbals, subtle drumming, and cricket-like percussive sounds. In between, Thompson's viola threaded exquisite, plaintive solos evoking the music of a synagogue. All the musicians moved as one, as if to the rhythm of slow breathing, and encompassed the audience with the work's gravity and grace.
One of Thompson's long-time colleagues, MIT lecturer and acclaimed composer Elena Ruehr, composed a concerto for him, "Shadow Light" (2016), which she describes as "a story about striving for light in the midst of darkness."
After an intermission, Thompson performed the Boston premiere of its chamber version, accompanied by two violinists and a violist, a cellist and a bassist. Mingling dark and light musical elements from the start, the concerto begins with a minor triad and leavens this phrase with a raised fourth. This interplay of light and shadow continued throughout the piece, as the ensemble responded with empathy to each of Thompson's lyrical solos.
Thompson concluded the concert with the sumptuous, eccentric "Flos Campi" (1925), by Ralph Vaughan Williams, which he performed with a 35-member orchestra and the MIT Chamber Chorus, directed by Dr. William Cutter, MIT's director of Choral Programs.
The work's six movements interpret verses in the Song of Solomon, an Old Testament paean to both erotic love and the bond between God and humanity. The verses are quoted in the program in both Latin and English. But these words are not sung by the chorus. Instead, with wordless vocals, the singers join the orchestra and Thompson in rendering the emotional momentum of the lines, which varies from soulful yearning and tender pleas to a staccato march and a danceable rhythmic passage. With a lively wind section complementing strings and percussion, the orchestra adds plenty of color, following Thompson as he alternates between delicate fingering and forceful rasping on his strings until, reaching the end of the sixth movement, a slow arc of notes brings a sense of fulfillment.