Council to take on tough issues in 2018 hearings
Edwards calls for review of Hub housing speculation
Yawu Miller | 1/31/2018, 12:54 p.m.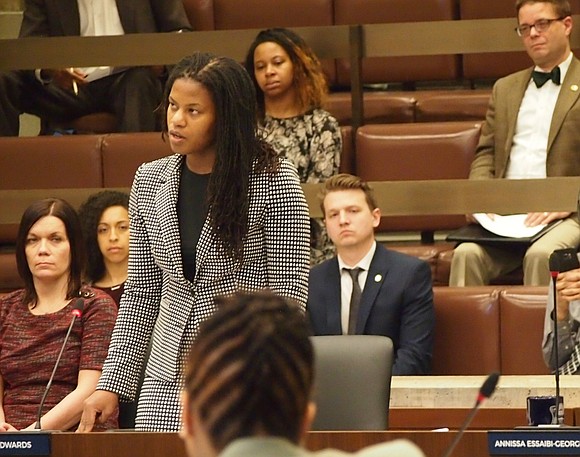 "We need a direct and equally aggressive mindset for creating housing for our families," she argued in her council speech. "We need real numbers and measurements that reflect the average income of Bostonians and are not based on the current area median income. We need targeted, frank discussions with developers. We need to set an investment standard in Boston. We need to play defense and protect our housing stock like it is one of the most precious resources we have."
School governance
Essaibi George's push for a discussion on an elected school committee represents another challenge to mayoral hegemony, which extends to Walsh's control over school policy. Mayors have appointed school committee members since the elected body was abolished in 1991 by home rule petition. But interest in returning to an elected board spiked in December, after parents butted heads with BPS officials and the mayor over an abruptly-announced proposal to shift school start times, with some elementary schools facing new start times as early as 7:15 a.m.
Essaibi George says she would like the public to consider options including an all-elected board or a hybrid elected-appointed board.
"This is really a question about how families can best engage with the people who set policy that impacts their children's education," she said, speaking during the council meeting. "I want to give parents, families, students, education professionals, BPS and the administration the opportunity to engage in a productive dialogue with each other."
Essaibi George also issued a hearing order on the school department's ongoing efforts to change grade configurations in the BPS system.
Campbell and Essaibi George issued an order for a hearing on the city's plans to reopen the Long Island Bridge, which Walsh closed in 2014, forcing the relocation of the bulk of the city's homeless shelters and drug treatment facilities.
Other matters
Other new hearing orders covered more pedestrian city matters, including an order from Councilor Frank Baker on the regulation of the taxi industry, transportation network companies and self-driving vehicles, an order from at-large Councilor Michael Flaherty and Councilor Zakim on health care provider parking permits in the city of Boston and an order from Councilor Wu to look at the possibility of adding a fee to resident permit parking stickers. Wu's resident permit parking idea generated some buzz in the local media, including an article and opinion piece in the Boston Herald and segments on local broadcast media and radio, as has Essaibi-George's order on the School Committee. The media so far has been largely silent on Edwards' order on housing speculation, but with her laser-focus on issues of displacement and inequality in Boston, the first-term councilor is challenging the narrative of the Walsh administration on its efforts to satisfy the growing demand for housing in Boston.
Pressley says the woman councilors have both an obligation and the means to shake up the status quo in Boston.
"There's a unique opportunity and responsibility for us to lead," she said. "We're being innovative."