Leave the lettuce
Ari LeVaux, More Content Now | 1/26/2018, 6 a.m.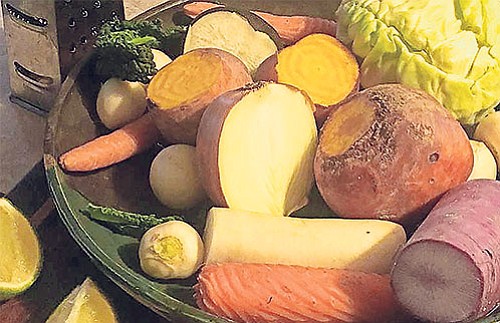 One option is to add a few tablespoons of toasted sesame oil and a teaspoon of soy sauce to dress up these shreds. Toasted sesame seeds go well here, too, as a replacement for sesame oil. Then mix with the onions. Alternatively, skip the soy and sesame, and just mix the shreds with onion dressing.

And if cabbage is what you're grating, a dressing of garlic, lime, mayo, shredded Parmesan and a shot of Worcestershire sauce will give it a creamy, vaguely Caesarian flair.
Fresh Brussels Sprouts Salad
The consummate gastronome Allen Broach of Greensboro, South Carolina, happens, as we speak, to be on a binge of brussels sprout salads, one of which he sent along from the trenches:
1 pound brussels sprouts leaves torn form the sprouts
½ cup toasted walnuts

3 tablespoons finely grated pecorino Romano cheese

3 tablespoons extra-virgin olive oil or to taste
½ T kosher salt

1 T freshly ground black pepper or to taste

Balsamic reduction to sprinkle over the salad just before serving
Pulling apart the brussels sprout leaves can be laborious but results in a charming salad of green scallop shells. The inner core of the sprouts, which haven't yet differentiated into leaves, can be thin-sliced. I swapped pecans for the walnuts, and they were great.
For the reduction, heat a half-cup of balsamic vinegar on low, allowing it to slowly thicken to about half the volume. I dressed mine up with pomegranate arils, and the onion dressing, of course. It was special. And local. Enough.