Melinda Lopez bears witness in 'Mala'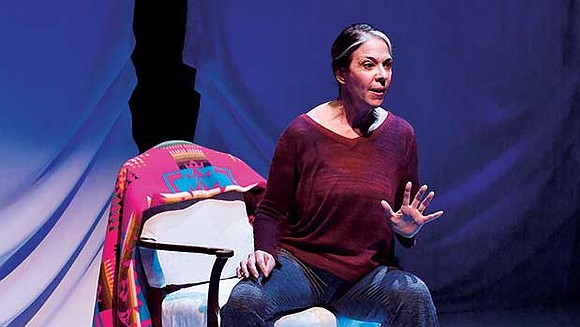 Poetry is fundamental to the play, and not just when Mala, by the bedside of her dying father, memorizes lines of T.S. Eliot's poem "Little Gidding," a contemplation of dust and death triggered by the sight of ash on an old man's sleeve.
Mala's narrative does not progress in chronological order. Instead, she braids memories into an intertwined stream of scenes, the way they might surface in dreams or in moments of reflection.
She groups her stories by titles, like chapter headings in a book, and mingles the surreal and poetic with everyday language and events. When writing the play, Lopez drew from impromptu text messages she typed into her iPhone, often after hair-raising events. These tweet-length messages became free-floating fragments of raw, surreal interior monologues.
Now and then, Mala takes up her cellphone and types in a phrase that appears on a screen behind her. Speaking of her mother, she types, "She won't rest until I am dead," and later, "I dreamed I had no navel. I never grew in her womb or breathed her blood. I sprang fully formed from the head of my father."
The production's marvelous, sympathetic staging complements the mingling of daily realities with inner life that shapes Lopez's script and fine, utterly natural performance.
The economical set by Kristine Holmes blends the evocative and everyday in a cool blue-and-white palette. Three panels covered by transparent curtains form a backdrop to the sparely equipped stage. On the left, a white brocade chair and small table stand on a slightly raised platform. In the center of the stage is a stool and to the right is a hallstand. Scott Pinkney's lighting shifts from daylight to mottled clouds, and accents the few props — a bowl of orange clementines, red boots, a red strap for dog walking and a Pendleton blanket that figures in Mala's Arctic dream. When Mala mimics her mother's long siren-like wail, flickering lights imitate the flashing light of an ambulance.
Subtitles appearing on the panels translate Spanish phrases or display words that Mala says as she introduces characters or switches topics. Arshan Gailus's sound design accompanies poignant moments with delicate threads of music.
These ever-shifting episodes and characters keep the monologue moving as, with candor and humor, Mala "bears witness" to the decline and death of her parents and to her own limitations as caregiver. But most memorable is Lopez's portrayal of her mother's rage, fear and fierce will as, for a while, she defies a dire diagnosis. "Mala" is a tribute to the dying as well as those who remain by their side.