Greater Boston residents meet in person to talk about race
Gatherings are organized in each neighborhood to discuss Spotlight series
Karen Morales | 1/12/2018, 6 a.m.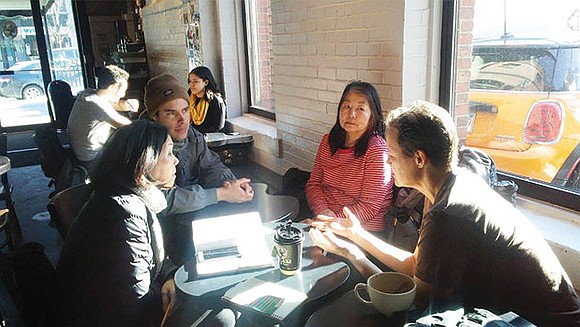 "I felt it was limited to anecdotal information from residents who have lived here a while, which was accurate, but were things that I think many of us already knew about," he added.
Originally from Taiwan, Yin's family immigrated to the U.S. when he was a young boy, and lived in Cambridge during the 1970s. Now, with his background in social work, Yin said, "I really enjoy talking about these issues with people, the way it opens your eyes to different points of views."
Betty Chan, an organizer for the Newton meetups and a licensed independent clinical social worker, owns a practice that specializes in Asian American mental health. "As a '1.5 generation' Chinese-American who grew up in Hong Kong, I have a bicultural perspective and personal knowledge of the struggles of immigrant families," she said.
According to Chan, Newton has a rapidly growing Asian population, the majority of whom are Chinese, but they are still absent from city government and not reflected in appointed and elected bodies.
"I got involved with RIB because I hope to make positive changes in the racial divide in Newton and promote intercultural dialogue," she said.
Chan believes that while the Globe series showed black and white race dynamics in Boston, there is also systemic racism toward other people of color, including Chinese people.
"Chinese people are still lumped together into one monolithic group coping with the 'model minority' stereotype, which on the surface [looks like] a positive stereotype, but is [actually] a double-edged sword because it pits Chinese and Asians against blacks," she said.
"I like the meetups, but I'm daunted," said Schettler who is originally from Tulsa, Oklahoma, and moved to Cambridge in 2000. "I'm not really a political organizer."
Even so, Schettler recognizes that it is now a critical time in Boston and in the rest of the country to call out social divides and inequities. "In our meetings, we always circle back to the question of, 'Why are we here and what should our goal be?'" she said.
She continued, "I think we just want to hear each other out first and own up to our racist history and everyday realities."