A record survives
Photographs reveal Worcester's historic African American community
Susan Saccoccia | 1/10/2018, 11:26 a.m.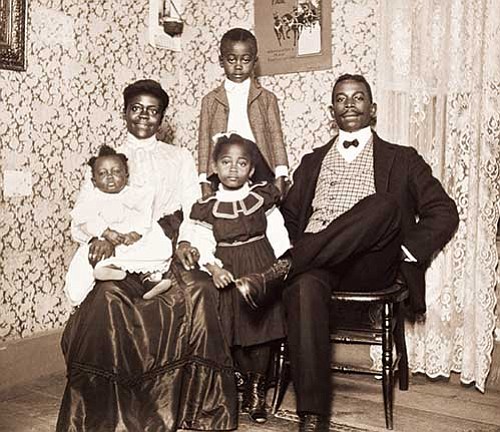 A retired history teacher, Morrill brought the collection to the attention of Greenwood, author of a 2009 study of the same population, "First Fruits of Freedom: The Migration of Former Slaves and Their Search for Equality in Worcester, Massachusetts, 1862-1900." Their meeting set in motion a collaboration between the art museum and the university that led to the exhibition.
Greenwood's students took part in genealogical research, studying public records and interviewing relatives to gather biographical information on the subjects and their heirs. Envisioning the exhibition as a community-building experience, the museum and Clark formed an advisory board of past and current residents. The day before the Oct. 14 opening, community advisors and portrait subjects' descendants from far and near attended a celebration. At the opening, descendants of David T. Oswell, a prominent musician, composer and teacher photographed with his viola by Bullard in 1900, performed Oswell's music.
The exhibition occupies a central hall and adjoining galleries. By the entrance is a map of the Beaver Brook neighborhood (circa 1911), a lopsided square mile or so that today retains a small park and the still-active John Street Baptist Church. Among its few remaining houses is Bullard's former home at 5 Maple Tree Lane (formerly Mayfield Street).
An intimate atmosphere prevails in the galleries, where the prints are framed in gilded wood and displayed on deep magenta walls in uncluttered, thematic groupings. A table and chairs invite visitors to browse the catalog and related texts, including the iconic 1903 book, "The Souls of Black Folk," a collection of essays by W. E. B. Du Bois (1868-1963), a leader of the Harlem Renaissance, who advocated photography as a tool to promote his era's emerging black middle class. He presented a set of photographic portraits showing elite African-Americans at the Paris Exposition in 1900, but the subjects were mainly nameless except for a few individuals of great renown.
Bullard names his subjects, and, counter to studio practices of his time, which sought to lighten black skin, he skillfully adjusts his lighting and settings to render his subjects' natural skin tones. Producing glass negatives ranging in size from 3 ¼-by-3 ¼ inches to 8-by-10 inches, Bullard worked with a bellows camera constructed of wood and leather that took minutes to complete exposures. The process required the collaboration of sitters, who had to remain still. Unlike studio photographers, who favored formal poses with props and a then-fashionable Pictorialist style, Bullard portrayed his subjects at work, at leisure and at home.
Bullard lacked a studio and perhaps was self-taught, but he had a knack for rendering character and personality, a keen eye for telling details and composition, and a warm rapport with his subjects. His portrait sitters appear confident and well dressed, whether in leisure finery, military uniforms or work attire.
Family and community ties
Most African American residents of Beaver Brook came from northern and eastern Virginia, New Bern in North Carolina and Camden in South Carolina, where during the Civil War they came to know white soldiers, ministers and teachers from Worcester who opposed slavery. After the war, these white northerners helped the newly emancipated slaves migrate to Worcester. The newcomers then helped their relatives join them in Beaver Brook.