Crafting a consultancy
Entrepreneur taps training, experience in tech business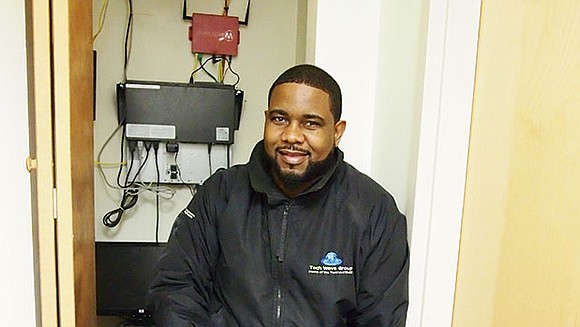 Early clients
With a realization he had valuable expertise to share, he took the leap to entrepreneurship, and Tech Wave was born.
His first client was actually Verizon. Working for his former employer on a contract basis provided some stability for two years as he got his new business off the ground. One of his first clients outside Verizon was a small downtown law firm that became a longtime client. Another was Grove Hall Neighborhood Development Corporation, right in the neighborhood he knew since childhood.
From there, the business grew to a fully functioning IT consulting firm, almost solely by word-of-mouth connections. Tech Wave Group now has an office in Dedham with meeting space and a computer lab and a satellite office in Dorchester, and clients have included such major institutions as Boston Medical Center and Boston University.
Giving back
Brathwaite spent a decade coaching young men in the Christian Youth Basketball League. Long hours in the business and a growing family at home (he and his wife have two children, ages 3 and 1) leave scant time for sports coaching now, but mentoring is still part of his approach. He enjoys providing internships to students, and over the years, a number of Tech Wave employees have been people he once coached on the basketball court.
"It's a privilege to see someone grow from a teen into a grown man, a college graduate, with that potential that he could work for me," he says.
Despite his bruising brush with that doubting teacher in high school, Brathwaite has developed into a confident teacher himself.
"I've learned from a lot of mistakes. I'm an organized person and I like to streamline things, so it's easy for people to come in and follow the system. They leave knowing conceptually the different areas of IT and what they entail."
What's next?
Tech Wave keeps Brathwaite almost too busy to pause and plan for the future. But he would like to be able to hire more people, who would start as computer technicians and technical support specialists. And while he's pleased that Tech Wave has grown through word-of-mouth, he aims to devote more thought into additional marketing efforts. Another goal is to capitalize more on the firm's Minority Business Enterprise certification, which could help connect him to more customers.
Recipe for success
One of the good things about being in business for himself is flexibility, Brathwaite says, the freedom to take care of tasks and appointments during business hours. On the other hand, IT consulting work involves long and unpredictable hours.
"When the buck stops with you, if there's an issue, you have to be the one to do it," he says.
The best business decision he's made? To treat every client like they're the only client.
"I know it sounds simple," he says, "but I think that's what grows our business. We're not just offering technology. We have a personal touch."