Walsh begins second term as Boston mayor
Vows to support middle-class and homeless residents
Karen Morales | 1/3/2018, 10:35 a.m.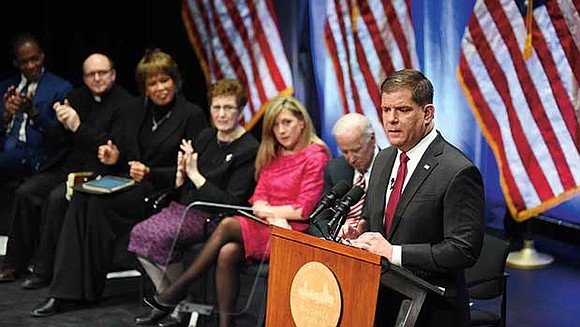 Throughout his previous term, Walsh worked toward his goal of 53,000 new housing units by 2030, but on Monday, he announced he would increase that goal through a regional housing plan in partnership with other mayors from Greater Boston, because "families are still continuing to be priced out."
In addition he said, the city will invest more in public housing and will call on universities to build more on-campus dorms to open up homes in neighborhoods for people already in the community.
He also announced a plan to reopen the bridge to Long Island, which held shelter and addiction recovery services. According to Walsh, the bridge to Long Island was forced to close in 2014 "for the safety of vulnerable residents," but, he pledged to rebuild the bridge back to Long Island and create a long-term recovery facility on the Boston Harbor island to tackle the opioid crisis.
In conjunction with the new Long Island plan, Walsh also announced the launch of Boston's Way Home, a plan to raise $10 million in private funds to create 200 new units of long-term housing for chronically homeless Bostonians, including veterans. According to Walsh, Bank of America has donated $250,000 to start off the program, and Pine Street Inn will hold the funds in a restricted account.
Biden said that Walsh "has not forgotten where he came from and knows how tough life can be," citing Walsh's survival of childhood cancer and later in life, alcoholism.
"Do you think there is anyone else in the city who believes more in giving people a second chance, than your mayor?" Biden asked the audience.
"We are more than 'a city on a hill with the eyes of the world upon us,'" said Walsh. "We are a city built by all the people in the world as they turn hunger into hope, crisis into recovery, conflict into community."
He concluded, "Our greatest days are yet to come."