Race, politics & protest in 2017
Mayoral race, racism in Boston dominated headlines last year
Yawu Miller | 1/3/2018, 10:26 a.m.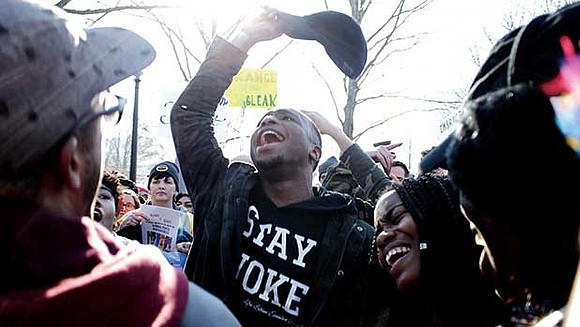 After Walsh was re-elected, the Boston Globe in December ran an ambitious series of articles outlining the persistence of racism in Boston, the city's reputation for racism and disparities blacks in Boston face. Although the series ran too late to give Jackson an electoral boost, the stories raised many of the same issues the candidate had highlighted during the election.
The electoral season brought significant victories for other black candidates, with women of color now making up a near-majority of those serving on the City Council. East Boston attorney Lydia Edwards won a decisive victory against North End city worker Stephen Passacantilli, becoming the first black candidate to win in the traditionally Italian American district. It was the first time a person of color won balloting in East Boston in a local election.
Replacing Tito Jackson in the Roxbury-based District 7, education activist Kim Janey prevailed in a crowded field of 13 before going on to best anti-violence worker Rufus Faulk in the general election. Janey and Edwards brought the council's number of women members up to six for the first time in history. The newcomers will join Asian American outgoing council President Michelle Wu, Annissa Essaibi George, whose father is Tunisian, and African Americans Ayanna Pressley and Andrea Campbell, who now is the new council president.
Schools
The year 2017 saw a second consecutive year of budget cuts to Boston schools, although the cuts weren't as expansive as those doled out in 2016. When the city's school budget was released in February, 48 of the district's 126 schools saw their budgets slashed, some by more than $1 million. BPS officials blamed the cuts on declining enrollments in some schools, which, thanks to the district's system of allocating funding per-pupil, siphoned funds away from struggling schools. In a lean funding environment some parent advocates likened to a "Hunger Games" scenario, some schools lost out big.
Brighton High School made headlines with a Level 4 designation from the state, which triggered a reorganization plan. The district sent pink slips to the school's teachers as part of its turnaround process, prompting outrage from students and parents, some of whom argued that the school needed more resources to serve its student population, 39 percent of whom are English language learners and 20 percent of whom were in special education programs.
Budget issues aside, Mayor Martin Walsh began the year with a state-level legislative package that included a bill critics said would pave the way for unified enrollment — a controversial scheme through which children being signed up for BPS schools could be assigned to either charters or district-run schools. Pressed on the issue, Walsh administration officials denied authorship of the provision, but House Education Committee Chairwoman Alice Peisch countered that claim, noting that she filed that legislation as she received it from the mayor's office.
The controversy further stoked parent activist concerns that the Walsh administration would press forward with unified enrollment after the election. Despite statements from Walsh's Education Chief Turahn Dorsey that such a plan was near completion, city officials have yet to make it public.