Boston councilors start historic new chapter in City Hall
Karen Morales | 1/3/2018, 11:58 a.m.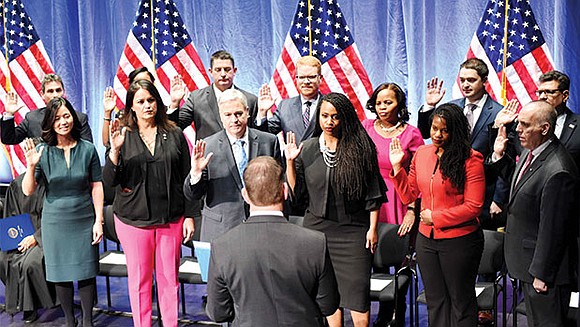 "I really want to look at innovative transportation, and see our waterfront grow," she said.
Janey said she will focus on finding an innovative source of revenue to put toward affordable housing and increasing home ownership. She also believes that the city budget should direct more funds toward creating opportunities for young people through summer jobs and year-round employment.
"How we support our young people can go a long way in building our future workforce and tackling bigger issues like crime in our communities," she said.
When asked about her stance on unified enrollment, a contentious issue brought up in 2017, Janey said she is "concerned" by the remaining unanswered questions and the possibility of "an even more multi-tiered system" and "the needs of special education students not being served as much at charter schools than in public schools."
Janey also said that she hopes to see more data on the current home-based school assignment system that shows whether or not it truly provides greater equitable access to quality schools.
"One way we can perhaps address inequities is by looking at an assignment system by number of seats, instead of number of schools," said Janey. Although each family is given an equal number of Tier 1 or Tier 2 schools on their assignment list to choose from, the schools may not be a fair comparison because the number of seats in each school differs neighborhood to neighborhood, she explained.
And although comprehensive data from the Boston Police Department body camera pilot program is yet to be released, all six of the women on the council — Campbell, Michelle Wu, Pressley, Janey, Edwards, and Annissa Essaibi George — have been in favor of, or at least open to, body-worn cameras for the city's police force.