PR and marketing synergy
Founder of comm. agency adapts to evolving industry
Karen Morales | 2/28/2018, 11:44 a.m.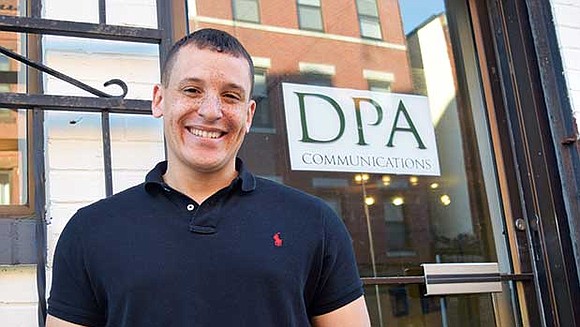 Slow and steady
Implementing the business management skills he learned at Bryant, Amenta said that in scaling his business, he was cautious in making decisions to hire people and take on new clients. He would always first consider the company's revenue generated over the last quarter and what he expected to generate in the upcoming quarter. "It was like playing chess. Even though I see the end goal, I had to be strategic and not move too fast," he said.
Amenta did eventually make his first hire in 2013, and the pair worked in a tiny office in the North End.
In the beginning, DPA took on clients such as Haymakers for Hope, a nonprofit charity organizer for cancer fundraising, one of the company's first clients ever and still today, a loyal client. "We've watched them grow, they've watched us grow. We've grown together and they have become friends in addition to being clients," said Amenta.
DPA also worked with DraftKings, "during the early years before they became this international powerhouse," he said. "We had the privilege of working with those guys and got them good local, regional and national press coverage."
Expansion
Approaching its six-year mark, DPA has a main office in the North End, works with 12 to 15 clients per month, and has five full-time employees and two interns. One intern, currently an Emerson College student, is a videographer and has been helping the agency create videos to use as a storytelling tool for clients in need of content marketing.
Amenta shared another exciting development: DPA Communications recently launched a second office in Los Angeles, officially becoming a bi-coastal PR and marketing agency.
"The dream here is to grow this thing as large as possible can without moving too fast," said Amenta. "We have the right person in place there and right opportunities coming along."
DPA's account director for LA is currently based at a WeWork location to not only keep starting costs low, but also network with other entrepreneurs in the area.
In a media landscape filled with memes, bloggers and Snapchat videos, the team at DPA Communications has plenty to keep them on their toes. Recently they worked with viral sensation, Ryan the Selfie Kid, the Hingham, Massachusetts native caught on camera at this year's Super Bowl halftime show fiddling with his cellphone as Justin Timberlake danced alongside him. He subsequently racked up thousands of followers on social media.
"As wild as that seems, he got thrust into digital influencer territory," said Amenta. "We're actually working with Ryan and his family, to make sure that whatever brands are looking to align with Ryan, are aligned with what a 13-year-old kid should be aligning himself with."
That includes issues that Ryan himself cares about, like anti-bullying campaigns.
"The clients run the gamut, we don't focus on a specific niche," said Amenta. "We work with every industry that exists and work with every publication and brand on behalf of those clients."