PR and marketing synergy
Founder of comm. agency adapts to evolving industry
Karen Morales | 2/28/2018, 11:44 a.m.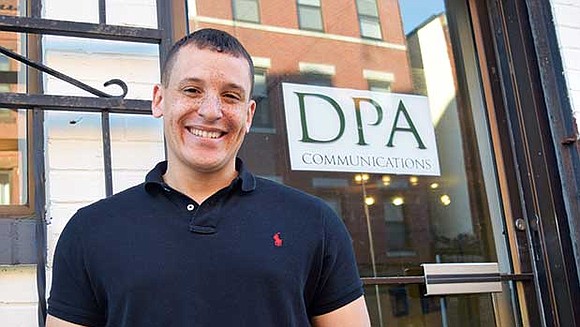 Having been in the business for almost two decades, Dominic Amenta knows that good public relations also includes elements of marketing, social media, content creation and strategic alliances — some ideas that were once unheard of 20 years ago.
Amenta founded DPA Communications in 2012, after learning about traditional PR at Regan Communications Group in Boston for seven years, often from the agency's founder himself, George Regan.
After earning a business management degree from Bryant University in 2001, Amenta, a Stoughton native, said, "I didn't know a thing about PR at the time, but I knew I didn't want to follow the path of some of my other friends and go the finance route."
After an entry-level position opened up at Regan, he worked his way up from an assistant to vice president of his own team, with four to six account executives working under him and leading campaigns for his own set of clients such as Mohegan Sun, New Balance and the Park Plaza Hotel and Towers.
Around that time, Amenta said he began noticing a shift in the industry, "where it wasn't all about traditional PR anymore – companies were now calling themselves integrated marketing companies."
After a stint leading the PR division at another agency, Altus Marketing and Management, he prepared to take on a pair of clients independently, all the while thinking, "What it would be like to open up your own business?"
The two clients agreed to hire him through his independent venture and, he said, "It just snowballed from there. I picked up a couple clients, then a couple more, then a couple more."
Earned reputation
According to Amenta, although DPA focuses on PR, the agency runs campaigns through an overall marketing strategy. "So we don't do PR just for the sake of PR, we look at our clients' goals and objectives and figure out how we can have a good PR outcome," he said.
Sometimes the client's goal is increased awareness and exposure, or more foot traffic at an event. The integrated strategy might involve a radio interview or a strategic alliance with a digital influencer or blogger. Sometimes it's a combination of press exposure and business partnerships. "They're all intertwined, it's wild," said Amenta.
Amenta said he largely built off of the reputation he had nurtured during the earlier part of his caree. "Boston is a small city and it kind of feels like everybody's one degree of separation from the other person. … I learned early on if you do good work and you keep your circles and networks tight, then you're going to have a good reputation," he said.
During the first eight months of starting his new company, Amenta kept overhead costs low. He was the sole employee and because of the nature of the industry, he was able to work from his computer at home, in coffee shops and sometimes, in his clients' offices.
"I'm proud to say that I haven't had to take one dollar from a loan," said Amenta. "I know that in other situations, people could get lending and that would give them the opportunity to catapult their business a lot quicker, but I took a lot of pride in starting it from scratch and making sure that every dollar counted."