Biz forum highlights solutions
Speakers tout success models for easing Hub economic inequality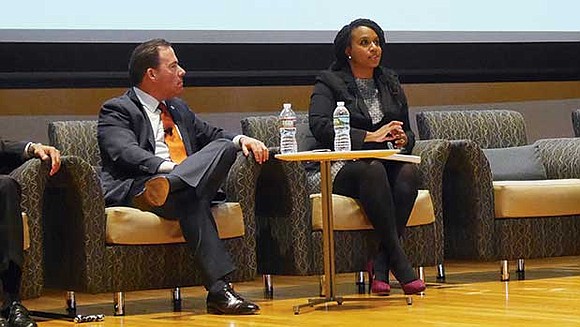 An audience of some 350 people gathered Monday night at the Federal Reserve Bank in Boston for a discussion of solutions to racial and economic inequalities in Massachusetts. The event, organized by the Black Economic Council of Massachusetts, brought together political, government and business experts. In short presentations, a slate of speakers described successful models that help minority-owned business enterprises thrive and grow.
The impetus for the discussion was the Boston Globe's recent Spotlight series examining the state of racism in Boston, which laid bare some of the ways that blacks in Boston have been left out of the city's thriving economy, as well as the 2015 Federal Reserve Bank of Boston report, "The Color of Wealth in Boston," which revealed massive racial disparities in income and wealth between white households and black and Latino households.
At the Feb. 26 event, Federal Reserve Bank Senior Community Development Analyst Marija Bingulac reviewed key findings of that 2015 report.
"The disparities are huge," she said. While the revealed income gaps were sobering, it was the gap in wealth that emerged as a shocking truth: while the median net worth of white households in Boston is $247,500, for black households it is only $8. Lack of accumulated wealth makes it difficult or impossible to invest in education, make a down payment on a house, amass enough capital to start a business and withstand unexpected expenses like large medical bills.
At-large City Councilor Ayanna Pressley, in her turn at the lectern noted that the surest way to end poverty is to ensure opportunities to build and maintain wealth — particularly through home ownership and business ownership.
The policy example Pressley presented was the recently-passed city ordinance she authored with At-Large Councilor Michelle Wu promoting equity in city of Boston contracts. The ordinance aims to increase contract opportunities for minority- and women-owned business enterprises (M/WBE) by such measures as creating a supplier diversity program and instituting a quarterly reporting requirement to measure progress.
Karilyn Crockett, the city's director of economic policy and research, gave further details about how the city promotes equity in its procurement and contracting processes, highlighting the city's outreach, assistance and direction of procurement dollars to small and local businesses and M/WBEs and the city's willingness to be held accountable for these efforts.
Bob Rivers, chairman and CEO of Eastern Bank, described a constellation of programs that the bank has helped launch to support greater capacity, capital and revenue for small, and especially, black- and Latino-owned businesses: the Business Equity Initiative; the Growth Fund with the Boston Foundation; and the Pacesetter Initiative with the Greater Boston Chamber of Commerce.
Kenn Turner, director of diversity and inclusion at Massport, described his agency's ambitious effort to make diversity and inclusion an integral part of its entire business process. He highlighted the innovative bid process for a $550 million hotel project on land it owns in the Seaport District. Massport's request for proposals for that project established minority participation as one of four factors in review and selection of design and construction firms.