Waitress
Charity Angél Dawson Comes Full Circle in the Tony-Nominated Musical
Colette Greenstein | 2/21/2018, 11:38 a.m.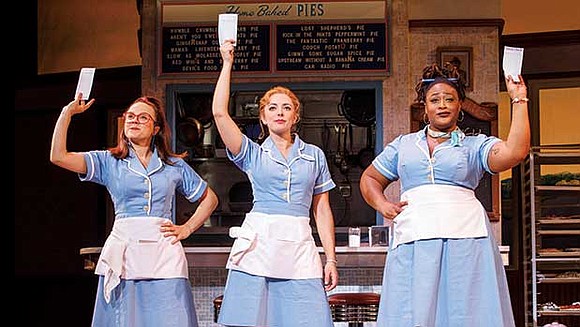 The musical touches upon universal themes, such as hope, love and doubt. How would you describe what your character goes through?
I feel like this show is about finding your "happy" and finding your place of peace, where you can sit and look in the mirror and say 'I like what I see.' You can look around at your life and say, 'I'm happy with what I see here and I'm at peace with it.' I feel like that is Becky's goal. She wants her friends to find that place and then she's able to tap into that for herself too.
Has playing Becky changed you in any way?
Yes, very much. I've always been kind of vocal and present with my friends but with Becky, she doesn't give pats on their back. She doesn't mince words. She says the truth in love. And it may not always be easy to hear, but I've kind of taken that on in my life too. If you love somebody you've got to break it down.
What has been one of the most challenging aspects of playing Becky?
There is no medium. She's a full-bodied vibrant person. And there really is no phoning it in. Sometimes when I'm exhausted it's like 'OK, enough' — however, she's challenged me in a positive way to not ever do that.
What do you hope the audience takes away from the musical?
I hope that they're able to see themselves and walk away spurred on to finding peace in their life and doing whatever they need to do — pursuing a dream, or a relationship or whatever — to make their lives look like what they dream it to look like. Dreams are real. They do come true. And they come true for Jenna in this show through trials and tribulations and through hard stuff and interesting decisions, but she finds her way.
What has it been like working with an all-female team?
It was really amazing. They have been really wonderful in crafting this piece and giving
the actors space and freedom
to discover, to be, and to learn and to grow and to develop this for ourselves in each cast, from the A.R.T to Broadway to tour.
It was pretty wonderful. I learned a lot.