Waitress
Charity Angél Dawson Comes Full Circle in the Tony-Nominated Musical
Colette Greenstein | 2/21/2018, 11:38 a.m.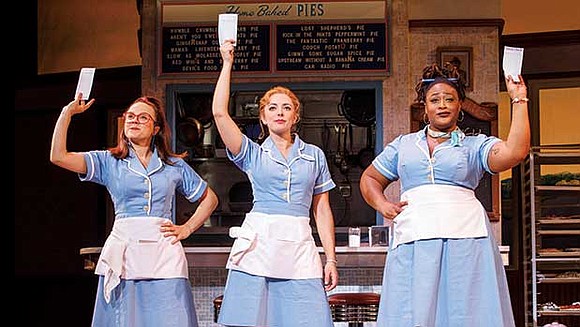 I can't wait to get to Boston. I'm back where it all began," says Charity Angél Dawson of returning to the Hub in the national touring production of "Waitress."
The actress originated the role of Nurse Norma when the musical premiered at the American Repertory Theater in Cambridge in 2015. She was a member of the ensemble at the A.R.T. and when it debuted on Broadway in 2016, eventually assuming the role of waitress Becky from Keala Settle ("The Greatest Showman") during its Broadway run. The actress once again plays Becky in the national touring production, now playing at the Boston Opera House through March 4.
If you go
Tickets for "Waitress" can be purchased online at www.BroadwayInBoston.com; by calling Ticketmaster at 1-800-982-2787; or in person at the Boston Opera House Box Office, 539 Washington St., Monday through Friday, from 10 a.m. to 5 p.m.
The musical, nominated for four Tony Awards, is led by an all-female creative team, including Tony Award-winner Diane Paulus ("Pippin," "Finding Neverland"), and six-time Grammy nominee Sara Bareilles ("Brave," "Love Song"), who wrote the original music and lyrics. Inspired by Adrienne Shelly's 2007 film, the musical tells the story of Jenna, a waitress and expert pie maker who unexpectedly becomes pregnant and dreams of a way out of her small town and unhappy marriage.
Dawson, who plays one of Jenna's friends and a fellow waitress, has been singing her entire life. She recalls falling in love with musicals as a kid but didn't know it was something that she could do until she performed in her first musical, "The Wiz," in high school. "I've been hooked ever since," she says. The actress graduated from the American Musical and Dramatic Academy and later appeared in the 2014 Broadway revival of "Side Show" as well as in "Dreamgirls," "The Color Purple," "West Side Story," "Ain't Misbehavin'" and, interestingly enough, "The Wiz."
Dawson spoke with the Banner earlier this month about her experience being cast in "Waitress."
You've gone from being in the ensemble to now playing Becky. What does that mean for you?
Charity Angél Dawson: It's meant so much to me. It was kind of a whirlwind. Becky has been a part of me since A.R.T. because the first day of rehearsal when we did a read through, Keala was unable to be there, so I had to do Becky stuff and Nurse Norma stuff, and all of the ensemble stuff as well that was required of me. It's kind of been from the beginning, she's been a part of me. But being able to have the opportunity to take over the role on Broadway and then to originate it here on tour has been pretty wonderful.
In taking over the role from
Keala Settle, how did you make it your own?
It was an interesting challenge because Keala is such a strong personality and such a vibrant talent, but I had to find my way to it; to find my way to this woman and understanding her and who she is. It was an exciting journey, and the creative team was very helpful in that and in encouraging me to not do what she did, but to make it my own.