A focus on small business
District 7 councilor sets her sight on growing wealth
Karen Morales | 2/21/2018, 11:34 a.m.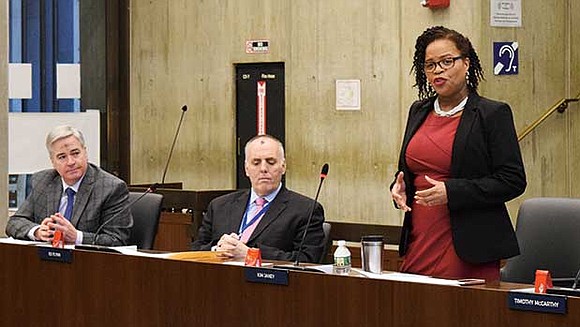 "We in Grove Hall had a parking lot and park built that cost between $500,000 and $750,000 in the heart of the black community and no effort was made to include a minority-owned construction company," said Gaskin, referring to last summer's reconstruction of the municipal parking lot at 23 Georgia Street and Blue Hill Avenue in Roxbury.
Just before the new year, the Boston City Council passed The Equity in City of Boston Contracts Ordinance, sponsored by councilors Ayanna Pressley and Michelle Wu, which requires the city to create a supplier diversity program that would conduct active outreach to women- and minority-owned business enterprises (MWBEs) regarding city needs and contracting processes.
Gaskin echoed Janey's statement describing city permitting and licensing as a roadblock for many minority and local businesses.
"Under the current system, permits and licensing act as a type of additional tax. Those with the capital can hire attorneys or experts who know the system and how to expedite the process," said Gaskin. "Those who don't wait months for the proper permits and, in some cases, go out of business before they start because the wait is so long."
With the new councilor's hearing order, small local businesses will remain high on her list of priorities. "We must seek creative solutions to help established businesses remain in our city and grow, and to allow new businesses to open here," she said.