Moving business forward
Entrepreneur developing app to assist with personal savings
Dominique Rouge | 2/14/2018, 12:23 p.m.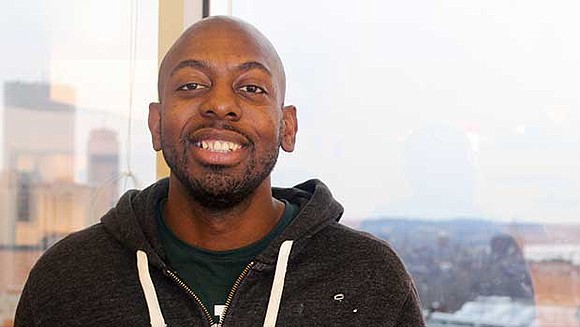 Entrepreneur Savant Musa, founder of FRWD, says financial literacy is one of the most common issues hurting Americans. He cites the statistic from the Federal Reserve that over 46 percent of Americans have less than $400 in their savings account, and he says 50 percent of people that make over $10,000 in America have less than $10,000 in savings.
By the numbers
60 percent of Americans don't have $400 in their savings account.
50 percent of Americans that make more than $10,000 annually have less than $1,000 in savings.
50 percent of Baby Boomers have no retirement fund
FRWD (pronounced "forward"), a publicly-registered startup company as of 2015, offers an application to automate the savings process.
"As humans, we're people of habit. Right now, we don't have habits that help us save," he says. "I think savings would work better when they're automated. Too many people already live paycheck to paycheck. And this goes beyond race or socioeconomic status. It's a problem across the board. You read about people with $150,000 that don't keep savings."
The design of his application is basic. It takes 14 percent of a user's gross income — equivalent to roughly one hour of work each day — and puts it in a savings account. When it reaches a certain amount, the team at FRWD reports the savings to credit bureaus.
The app intends to advance users' economic mobility, as its name suggests.

A network of resources
Musa decided to actualize his vision of FRWD after watching his friends Brian and Justin Gerrard, co-founders of BAE, achieve success.
The Gerrard brothers created BAE, a dating application for the black community, that was acquired by Tagged in 2016. Having worked as a brand ambassador for BAE until his graduation in 2016, Musa felt encouraged by the Gerrard brothers' success to startup his own company.
Seeing Boston as the "Silicon Valley of the East," he moved to the city and planned his entrepreneurial route. He saved, driving for Uber and doing odd jobs for a year.
He was accepted into Resilient Coders, a nonprofit training program that teaches a small number of applicants to code and provides free office space in the Cambridge Innovation Center. At RC, he learned how to code his own vision, a move that has been a boon for FRWD, he says, noting that it would have cost him $25,000 to hire someone to code the application.
Classmates from Howard are helping Musa advance the project. Makamba Sackey, an engineer for Chevron, develops FRWD's social media presence and supports Musa as his chief operations officer. Nia Johnson designs the app.
Other resources have come from Startup Worcester, a competitive incubator that accepted FRWD to its program in June. Its application required Musa to work with a mentor to create a business plan, which the incubator now helps Musa improve. It also allows Musa to practice pitching skills and develop his relationship with the bank that plans to hold FRWD's savings accounts.