Boston's connection to 'Freedom's Journal'
Pioneering black publication relied on Boston contributors, thought leaders
Jacqueline Bacon | 2/9/2018, 6 a.m.
On the evening of Monday, Feb. 20, 1827, a group of prominent African American Bostonians gathered at the home of abolitionist David Walker. Among the guests were John T. Hilton, leader of the black Freemasons in the city; Walker's neighbor George B. Holmes — a hairdresser, musician and Mason — and the Rev. Thomas Paul, pastor of Boston's African Baptist Church.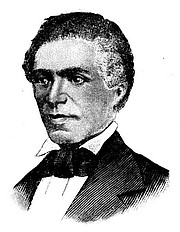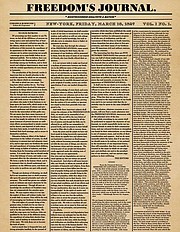 The meeting was convened to consider the Prospectus for the first African American newspaper, Freedom's Journal, which would begin publication the following month in New York.
"In the opinion of this meeting," they resolved, "there is reason to believe that great good will result to the People of Colour by the publication of the 'FREEDOM'S JOURNAL.'... [W]e freely and voluntarily agree to give it our aid and support, and to use our utmost exertions to increase its patronage."
From the beginning, Boston's African American community contributed to Freedom's Journal in vital and significant ways. Published in New York City from 1827 to 1829, Freedom's Journal was an international outlet for news and opinion pieces by, about and for African Americans. It was distributed in the United States throughout the North and parts of the South, with agents also in Haiti, England and Canada.
"We wish to plead our own cause," editors Samuel E. Cornish and John B. Russwurm asserted in their first editorial. "Too long have others spoken for us."
Freedom's Journal allowed African Americans to articulate their views on key issues, argue for their rights and learn about the news that white editors and historians had long suppressed.
Short run
Although it was only published for two years — with Russwurm assuming sole editorship after six months — Freedom's Journal transformed African American life. The scope of the newspaper, which featured commentary and reports from leaders and sources throughout the United States as well as other parts of the world, linked free black communities throughout the urban North and connected African Americans to Haiti and Africa.
Freedom's Journal established the central role of the black press as a tool for protesting injustice and uplifting the community, and helped shape the careers of many influential writers, orators and social activists. Since it was African American activists and their public protest that inspired and created the American antislavery movement — not white male abolitionists — Freedom's Journal was influential in the U.S. abolition movement.
Boston happenings
In Boston, David Walker and Rev. Thomas Paul, the newspaper's agents during its two-year run, were charged with promoting the periodical and obtaining subscribers. John Remond had this assignment in Salem where he was an important community leader; he would later join the Massachusetts Anti-Slavery Society and lead the campaign to desegregate the city's schools. His children Charles Lenox Remond and Sarah Parker Remond would become important antislavery orators. Walker became famous in his own right for his dynamic and uncompromising denunciation of slavery and colonization in his 1829 "Appeal to the Coloured Citizens of the World."
The newspaper's content included articles by and about African Americans in Boston. Boston correspondent F.A., for example, wrote to the newspaper in February 1828 to "argue for something like action and result, in regard to African Education in this country."