Black Restaurant Challenge
Initiative aimed at boosting business at local black establishments
Dominique Rouge | 2/7/2018, 12:21 p.m.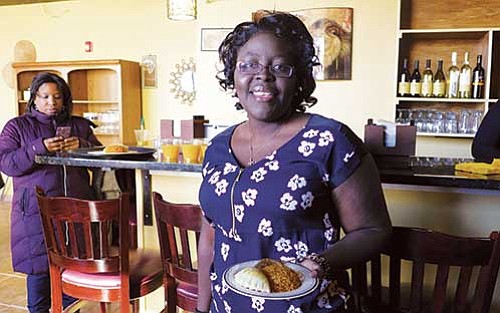 Springer snapped footage for Instagram and Facebook as Suya Joint filled in celebration that evening.
Employees at the restaurant increase its visibility through the restaurant's social media presence. Shamara Rhodes, founder of the organization Bringing Back Boston, also DJs for Suya Joint at its weekly events.
"It's been an amazing experiencing working for Suya Joint, networking with people in the city, and then bringing into the restaurant to show them African food," said Rhodes.
Drive and tenacity
To tell the story of Suya Joint, one must understand the determination of its founder, Cecelia Lizotte. She opened the restaurant in 2012, after emigrating from Nigeria in 1999.
"I worked for National Lumber as a receptionist. I would make my own lunch and bring it to work. This co-worker sees it and asked, 'Where did you buy that from?' and I told him I made it."
Lizotte catered jobs for this co-worker for three years, until he offered to be her partner in business, which meant providing the capital to open a restaurant.

"What drove me was my grandmother in Nigeria," Lizotte said. "I saw her cook for the whole entire community, and even though they were paying, people were so excited to come and eat her food. The excited and happy faces gave me the drive. And the lack of African establishments in the Boston area."
She reached out to members of the community to find the resources she needed.
"You can see online what you need to do to open a restaurant. You file with ServSafe, for example. And if you don't know how to do it, there's always a number that you can call. I called the police department in Hyde Park, for example, telling them what I was trying to do and asking about ServSafe. Through making those kind of connections, I got leads. I learned about CropCircle Kitchen (a food business incubator) in Jamaica Plain, for example, which helped me."
The way that Lizotte prepares food exemplifies her tenacity.
"A lot of the ingredients I use, I have to get from Africa," she said. "They're dense, costly and it's often my mother going and getting them. I use quality control and make sure she gets the best ingredients. Most of the time, really, I fly over there to get it, and bring back the ingredients myself."
At the kickoff of the Black Restaurant Challenge last week, the faces of people eating Lizotte's cooking looked both happy and excited.