Black Restaurant Challenge
Initiative aimed at boosting business at local black establishments
Dominique Rouge | 2/7/2018, 12:21 p.m.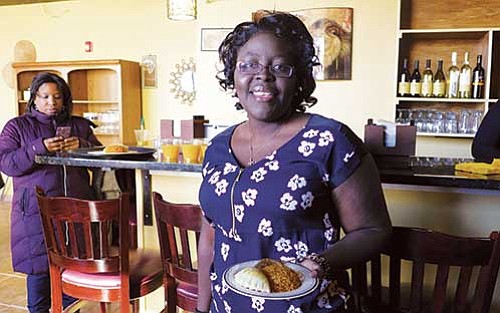 The Boston Black Restaurant Challenge, organized by state Representative Chyna Tyler and the Urban Affairs Group, kicked off on Feb. 1 at Roxbury's Suya Joint. The Dudley Square restaurant, lounge and bar that specializes in African cuisine was an appropriate jumping-off point for a promotion of black-owned restaurants.
"We want to highlight black-owned businesses in the city — especially businesses like this, that are able to get liquor licenses, which are few and far between," said Rufus Faulk, the head of the Urban Affairs Group that helped Tyler organize the event. "We need to make sure that we're maximizing those dollars, so that these business stay afloat and bring economic vitality to their neighborhoods."
Tyler noted the effect of local businesses on the economy of a community.
"Local businesses hire local people," she said. "It's a first entry point into the workforce, your local businesses. Restaurants hire a lot of different people. As much as we can boost our businesses through the Black Restaurant Challenge, we can help build our workforce."
Challenge organizers are asking people to visit four black-owned restaurants in Boston during the month of February and share photos and videos on the Challenge's Facebook page. A list of 38 featured restaurants in several neighborhoods can be found on the website for the kickoff event.
Faulk noted that the choice of where to spend money has transformative power.
"We want to show people that if they are intentional about where they spend their money, and support these businesses, the businesses can begin to thrive, they can hire more people, create more community events, and, through a ripple effect, change the dynamic of neighborhoods," he said.
By garnering more support for local businesses, organizers say, the Boston Black Restaurant Challenge can also encourage more people to go into business for themselves.
"A lot of people around here have great ideas, great potential, are very skilled, can cook very well, and are jacks and jills of all trades," Tyler said. "If they could just see a place like Suya Joint in their neighborhood, they would think 'Hey, I can cook really well, maybe I can open a place like this myself.'"
Visibility
Suya Joint has been popular with local residents and members of the Nigerian community in the two years since its opened, but broader visibility could attract a larger customer base.
Tyler teamed up with several groups for the Boston Black Restaurant Challenge, including the Dorchester-based Outside the Box Agency, a marketing and PR firm.
"Visibility is the key issue here," said Outside the Box principal founder Justin Springer. "Not a lot of people know about Suya, even though it's an amazing restaurant. We can't wait for the Boston Globe to do coverage or Phantom Gourmet to make a documentary. That's why we're promoting places like Suya Joint. We'll visit different restaurants through this whole month, interview the owners, and get their stories out there on different platforms, like Facebook Live."