Heaven on Earth
Gardner Museum displays restored Fra Angelico works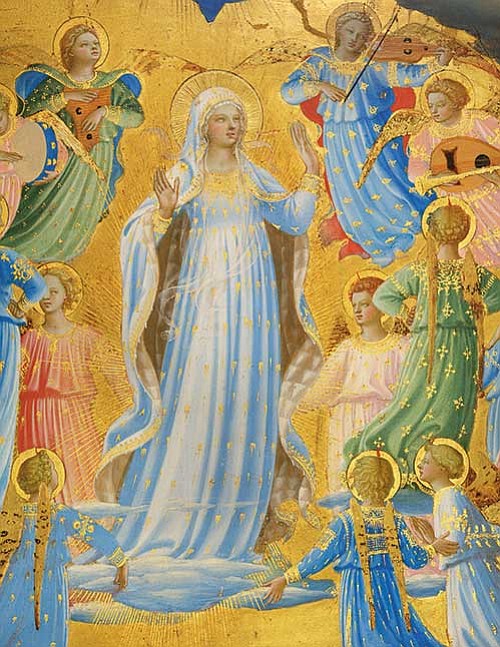 His visions of Paradise celebrate the Tuscan countryside, a paradise on earth with its spring flowers and green hills familiar to visitors of Feisole, a picturesque hill town on the fringe of Florence where he served for a time as prior of a small Dominican residence.
Rendering the interactions of Jesus and Mary with great tenderness, Fra Angelico portrays their figures as sources of shimmering light.

Let there be light
The Gardner reliquary is visible as never before in this exhibition, not only because of its eye-level placement and superb lighting, but also thanks to the Gardner conservators, who removed modifications by previous owners, including dark clouds and a squared-off frame. Described with the intensity of a detective story, a catalog essay details the process and what it revealed about the techniques of Fra Angelico as he applied gold leaf and egg tempera layers to a sheet of poplar with delicate, precise strokes, the better to render "the curls of saints' beards, the crow's feet on their faces and the strings on the angel's viola."
The image employs gold on gold in gorgeous geometric patterns to render Mary's funeral bier and the glittering host of angelic musicians welcoming her ascent, and also portrays the eye-to-eye exchange of the apostles as they bear the weight of her body.

The dual magnets of human drama and sublime beauty are also at play in the exhibition's first gallery, which offers a sampling of the settings in which Fra Angelico's works were viewed in churches and in home chapels of wealthy patrons.
The seven works include a triptych, a three-part image for private devotion; and altarpieces that stood behind an altar and were visible to the congregation. The predella, the base of an altarpiece, was also laden with detailed images.
A newly restored altarpiece on public display for the first time in four decades is "The Entombment of Christ" (about 1450), from the National Gallery of Art. Set in a Tuscan river valley, this spare and evocative image includes scenes before and after the death of Christ, including the garden of Gethsemane, the hillside with the three crosses and the open tomb.
The magnificent altarpiece "Paradise" (1431-35), from the Gallerie degli Uffizi, Florence, is a perpetual visual prayer.
Christ and Mary stand in an orb of dazzling light, surrounded by 85 figures, all, like them, adorned with jeweled haloes. Angels dance, sing and play trumpets, lutes and wind organs above a host of saints. Yet in this dense human assembly, no two look the same. Fra Angelico endows each saint with a distinct portrait. Mary Magdalene is carrying her jar of ointments with which she bathed the feet of Jesus. Saint Giles, patron of healing, is attired in his jeweled miter and holds his staff, as prior of the church of Sant'Egidio, the original setting of "Paradise."
Mary and Joseph
A predella of this altarpiece, "The Marriage of the Virgin," shows the wedding of a youthful Mary and aged Joseph — the only figures in the image with haloes and joyful faces — and also the contest leading up to their marriage. The high priest has ordered each of Mary's many suitors to break a branch, decreeing that the one whose branch blooms will be her spouse. Demonstrating the timeless power of Fra Angelico to engage an audience, two teenagers were captivated by the scene and its slapstick element: irate young suitors are shown striking Joseph's back as he weds Mary. Addressing the disappointed young men in the picture, one of the teenagers says, "It's just not your day."