'Get Over It!'
Iyanla Vanzant's tour offers an evening of healing and restoration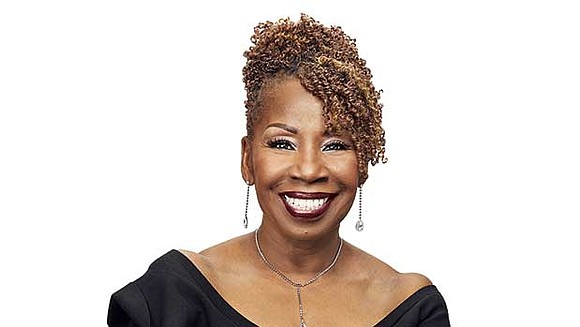 The New York Times best-selling author and spiritual life coach Iyanla Vanzant comes to Boston in her first solo tour in 18 years, called "Get Over It!: An Evening with Iyanla Vanzant." The 17-city tour began on April 5 in Akron, Ohio, and lands at The Boch Center Shubert Theatre this Friday, April 13, at 7:30 p.m.
The tour is in support of her 18th book, "Get Over It! Thought Therapy for Healing the Hard Stuff," released earlier this year. Using her book as a teaching tool, Vanzant will show audience members how to regain "dominion over their minds" and navigate everyday setbacks and challenges in order to live their best lives.
The Emmy Award-winning host and executive producer of the television series "Iyanla: Fix My Life" spoke to the Banner recently about the tour.
Earlier this year you released your 18th book, "Get Over It! Thought Therapy for Healing the Hard Stuff." What prompted you to write the book?
Iyanla Vanzant: What prompted me to write the book was all of the upset and anger as a result of the last presidential election. I just didn't understand why people were giving away so much power and energy to one person. It pointed out to me how much control we've lost over our minds. We've lost control over our minds because we're stuck in patterns of thinking and belief that just don't serve us. There's no reason for us to think that one person has that much control. We do it in relationships, we do it at work. We do it in our families, we do it everywhere. We give away the control over the dominion of our minds to other people.
What would you say is one of the first steps in reclaiming our power?
Vanzant: The first step is taking control over your mind. The challenge is that 70 percent of what we think is unconscious, and we really haven't been taught about the power of our thoughts. We know it's a 'dramatic meditation' or we know it's an 'affirmation' but we don't really understand the true creative power of our thoughts. We don't realize that we are thinking the same thing over and over and over, and because we're not aware that we're thinking it, it's creating our experiences. It's attracting people to us. It's keeping us stuck in places we don't want to be. It's preventing us from moving out of difficulties or challenges that we may face in everyday life.
Are these some of the topics you'll be discussing on the tour?
Vanzant: Yes. Not only talking about it, but showing people how to do it. That's the important thing. This tour is really an intimate connection between me and every single reader, in a very public way.
I read that you will be looking for volunteers here in Boston and on other tour dates as well. Have you done this before and if so, how does this work?
Vanzant: Well you know, it's interesting. People think that their problems are worse than anyone else's problems. The truth is we're all facing the same thing. It just manifests in different ways. Just like on "Fix My Life," I think that by reaching out to one person in the public and using them as a demonstration of what's possible, people will have a better idea of how to do the work for themselves.