Vintage style revival
Local designer sells her 1950s-style attire in Brookline
Karen Morales | 4/11/2018, 10:27 a.m.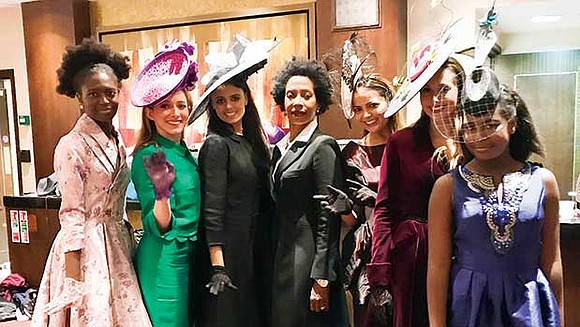 Each dress is given a woman's name. For example, the "Betty" dress is a polka-dotted, swing-skirt, cinched-waist number.
Joachim makes up to 12 pieces in each style. "I want my line to stay exclusive. I don't make a lot of pieces," she says.
Luna Joachim Collection has been shown at New York Fashion Week, London Fashion Week and Paris Fashion Week.
Joachim says her 26-year-old daughter, Rebecca, is the face of her line and often models the designs. Rebecca, who works as a therapist, helps the designer set up fashion shows, along with Joachim's niece, Jessica Kernizan, and designed the Brookline store layout.
The designer says the reason she moved the store to Brookline in November 2017, was that the market there seemed more suited for the style and price range of her clothes.
"People in Brookline love it," she says about the styles she offers. Joachim's store is now the top place for women to buy dresses and fascinator hats for the annual Kentucky Derby event in Brookline, which Joachim was asked to attend as a judge this year.
Joachim plans to launch a summer collection at the end of May, with lighter blouses and dresses. And this fall, she will be showing new designs as part of Boston Fashion Week.
Dual passions
Although perhaps contradictory, Joachim says the two most important things in her life have been fashion and ministry. In addition to being a designer and store owner, she is highly involved at her church, the Holy Bible Baptist Church in Somerville.
She runs the children's programs at the church, organizing kids-only services, choir and summer programs, and distributes a newsletter to parents and families every three months.
"It's in my blood," says Joachim about her dual passions. "God put everything in everybody."