Vintage style revival
Local designer sells her 1950s-style attire in Brookline
Karen Morales | 4/11/2018, 10:27 a.m.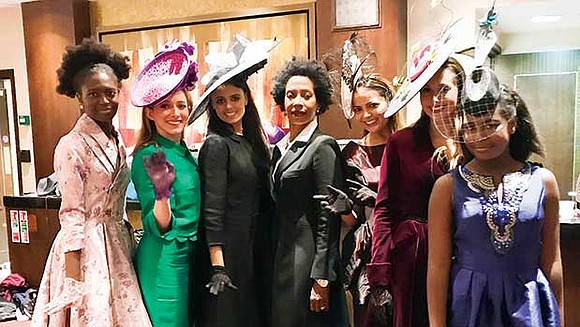 Stepping into L'Accent boutique in Brookline is like going back in time. Billie Holiday's crooning voice plays softly in the background, racks of dramatic full-skirted and caped dresses, two-piece suits, pillbox hats, and fascinators line the shelves. Pictures of Luna Joachim's fashion designs are placed all over the walls.
Joachim is the owner of the shop and designer of Luna Joachim Collection, a fashion line she started in 2013 that has been showcased in fashion shows all over the world and has women in the Greater Boston area buzzing for the vintage 1950s and 60s style clothing.
Naturally, Joachim's line is based on her own personal closet, the majority of which she made from scratch herself.
"I'm in love with the '50s and early '60s, the hats and the gloves. That's the only thing I wear," says Joachim, who names Jackie Kennedy as one of her style icons.
"I'm the only one here in Brookline selling stuff like this," she says.
Describing herself as a self-taught designer, Joachim began making her own clothes as a child growing up in Port-au-Prince, Haiti.
"I always had a sense of style and liked my own stuff. They called me 'royalty' even until today," she says about her lifelong love of elegant and chic clothing.
Joachim first learned to sew while attending a summer camp program. "I made my first beautiful dress, I will never forget that."
The budding designer finished high school in Montreal, where she also took on the popular trends of the time, including sporting an Afro and bell bottoms.
She moved to the U.S. after graduating and lived with her brother, who was an entrepreneur, in Connecticut. Then she began her decades-long career as a nurse in 1988.
Joachim primarily worked in Brookline, first as a private nurse for a client and then for a Brigham and Women's doctor — but, "fashion is in my blood," she says, and so she decided to pursue a different career.
A family affair
She first opened L'Accent in Malden in 2010, selling fashions from other designers. Despite it being her first business venture, Joachim was not a stranger to entrepreneurship, having been exposed to it by her parents who were "always in business."

She says her parents, who sold fabrics and wholesale food in Haiti, helped her start up the boutique, and she never had to borrow any money. "Everything is mine, I don't owe anyone anything."
L'Accent in Malden ran for seven years. For the first three years, Joachim was not selling her own clothes yet, although she regularly wore her own designs to work and church.
"Each time I get dressed, for church especially, they always want what I wear," says Joachim. "They would ask me, 'Where do I buy it?'"
That's when Joachim plunged even further into the fashion world by distributing her own designs. Her fabrics are sourced from New York, France and Italy and her prices range from $200 ("although that's rare," says Joachim) up to $800. Most of the dresses, which go from size extra-small to extra-large, are priced between $400 to $800.