Suffolk County D.A. candidates spar at Jamaica Plain forum
Yawu Miller | 4/11/2018, 9:51 a.m.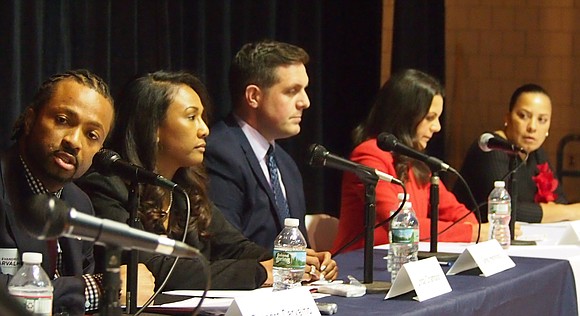 "If I were a legislator, I would support this bill and vote for it," Henning said Monday, citing support for the removal of mandatory minimum sentences for low-level offenders, and provisions to allow youthful offenders to have their criminal records expunged.
But McAuliffe said the legislation didn't go far enough, citing the Legislature's refusal to pass the Justice Reform Act, which would have directed the savings from lower incarceration rates to re-entry programs that help ex-offenders find jobs.
"In Massachusetts, we spend about $90,000 on re-entry services," she said. "Other states spend hundreds of millions on it."
She also opposes mandatory minimums for people convicted of selling opioids.
"We've been down this road before," she said. "It doesn't work."
Carvalho stressed his role as a lead sponsor of the criminal justice reform legislation.
"I'm the only candidate up here who has been working to fix this broken system that everyone's talking about," he said, noting that he is putting in a bill to increase funding for re-entry services to $5 million.
"I'm the one that's about reform," he said. "All they can talk about is what I've been doing for the last four years."
Carvalho's remarks drew fire from the other four candidates.
Champion appeared to take a swipe at Carvalho: "Passionate up here, huh, Evandro?"
Henning said he would let his record speak for itself. McAuliffe said she has fought on the front lines against the excesses of the criminal justice system as a criminal defense attorney. Rollins cited state Sen. Sonia Chang-Diaz's work on criminal justice reform and cited her own work on criminal justice reform as chairwoman of the NAACP Boston Branch's Legal Redress Committee.
Racial justice
Candidates were asked what steps they would take to address racial disparities prosecution, sentencing and incarceration in Massachusetts, which sees incarceration rates eight times higher for blacks than for whites.
Henning said he would use pre-trial diversion programs to reduce incarceration rates, but did not appear to directly address racial disparities.
McAuliffe said she would work to increase diversity in the DA's office, implement meaningful implicit bias training, shift the culture away from a "scorecard" mentality that rewards prosecutors for the number of convictions they make to practicing fairness in prosecutions and "collect data to meaningfully address systemic racism that's playing out in the courtrooms every single day."
Like McAuliffe, Rollins noted the lack of people of color in the criminal justice system.
"We have prosecutors who don't look like the people they're prosecuting. We have police officers who don't look like the people they're policing. And we need to do better," she said.
"We don't need studies," she added. "Walk outside. Look at police officers. Look at all the people holding signs for certain people on this panel. They don't look like the people that we're prosecuting."
Fundraising
Henning leads the field in funding, with $96,533 in his campaign account. His connections as a prosecutor appear to have helped him raise an impressive $58,378 in the last two weeks, with $17,100 of that sum donated by police officers.
McAuliffe, who has been fundraising since February, has a balance of $83,447, $33,963 of which were raised in the last two weeks of March.
Carvalho reported a $59,360 balance in his account, with $31,250 raised in the last two weeks of March. He began the month with a $24,259 balance, much of that carried over from his legislative campaign account.
Rollins, who has $27,708 in her account, raised all but $1,092 of that sum in the last two weeks of March, receiving much of it from attorneys.
Champion, the latest entrant in the race, lists just $3,800 in her account.