Suffolk County D.A. candidates spar at Jamaica Plain forum
Yawu Miller | 4/11/2018, 9:51 a.m.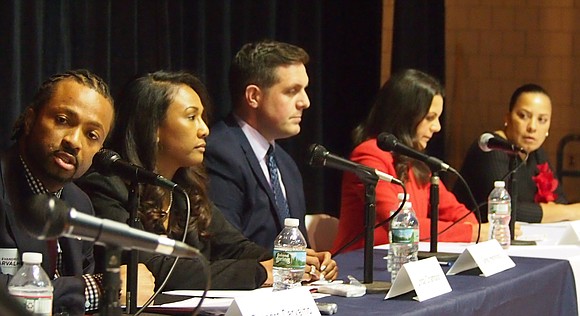 The gloves came off Monday as five candidates for the Suffolk County District Attorney's office participated in a forum at English High School hosted by JP Progressives, the NAACP Boston Branch and other groups.
State Rep. Evandro Carvalho, attorney Linda Champion, assistant district attorney Greg Henning, former defense attorney Shannon McAuliffe and attorney Rachael Rollins agreed on many major issues and sparred on others, all trying to differentiate themselves in a race that comes on the heels of a sweeping criminal justice reform package that may change the way prosecutors do their jobs.
Carvalho stressed his prior experience as a prosecutor and his work pushing criminal justice reform legislation.
"I saw families cycling through the criminal justice system," he said. "I ran for state representative to change the system. That's exactly what I've been doing for the last four years."
Champion, the latest entrant in the race, cited her experience as the daughter of an immigrant and her work in the nonprofit sector.
Henning spoke about his work in the District Attorney's office heading up the gang unit, as well as his volunteer work and a two-year stint as a teacher in a local charter school.
McAuliffe, who entered the race before incumbent Dan Conley announced his departure from the seat, spoke about her commitment to reforming the county's criminal justice system.
"It's cost us billions of dollars and made us less safe," she said, criticizing the District Attorney's office for perpetuating a system that rewards prosecutors for racking up convictions.
Rollins said she would focus on implementing the criminal justice reforms passed by the Legislature this year.
"If you don't have a district attorney who can implement all the changes into that office, which has 240 people, it will all be for naught," she said.
Qualifications
Asked what qualified them to serve as district attorney, candidates cited their experience — four of them as prosecutors.
Carvalho cited his work in the Roxbury and West Roxbury district courts and in the county's gun court.
Champion cited her work managing programs in the nonprofit sector.
Henning said he gained managerial experience heading the gang unit, one of the largest in the Suffolk County office.
McAuliffe cited her work leading the Boston office of Roca, a group that works with gang-involved youths.
Rollins hit at McAuliffe and Henning, stating that the gang unit had a staff of 15 and Roca, a staff of 17. She contrasted their experiences with hers as general counsel for the Massachusetts Department of Transportation.
Reforms
Asked whether she thought suspects are ever coerced into confessing to crimes they didn't commit, Rollins said prosecutors overcharge defendants as a matter of course.
"As prosecutors, we overcharge them with crimes," she said. "We leverage these charges to put our hands around their throats then make them take a plea bargain."
She said she would end the practice of overcharging suspects.
Asked whether he supports the criminal justice reform bill, Henning said he does, although WGBH correspondent David Bernstein reported last week that his campaign said he opposed aspects of the bill.