Increasing bidding opportunities
Railcar corp. hosts networking fair for minority suppliers
Karen Morales | 4/4/2018, 11:08 a.m.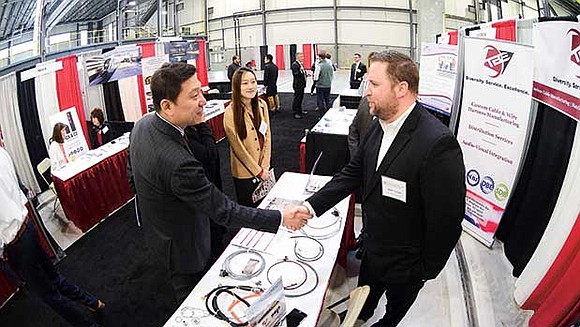 More than 40 minority and women-owned businesses showcased their products and services last Thursday at a supplier diversity and procurement fair attended by more than 150 businesses and organized by CRRC MA, the North American regional corporation of the world's largest railcar builder.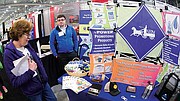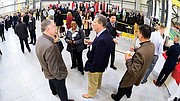 As a partner of the MBTA, CRRC MA hosted the business fair at their new Springfield, Massachusetts facility to promote networking and bidding opportunities between smaller woman-owned and minority-owned (WBE and MBE) companies and larger companies in various industries and markets. Business enterprises represented at the event ranged from metal fabrication and construction supply to credit union and travel planning — anything a mega-corporation could possibly need to run their business.
According to Lydia Rivera, a CRRC MA public relations representative, "People gravitate to a bidding opportunity like this. We try to promote collaboration and partnerships for businesses who can provide a service, but may be too small." As an example, Rivera said, CRCC has facilitated the collaboration of multiple small MBEs and WBEs to take on one big project.
"We try to be creative," she said.
For a small, minority company to be able to bid on major projects in the construction or manufacturing field, Rivera said, "it's a contract of longevity. It can be a five-year contract and as a company providing a single product, I'd be able to depend on this money for 'x' amount of years."
She added, "That's how people do business and scale."
Mickey Diaz, vice president of customer solutions for Walker International Transportation LLC, said in a statement emailed to CRRC MA about the business fair, "In short, a lot of companies talk about supporting supplier diversity, yesterday CRRC 'walked the talk.'"
For CRRC MA's current project with the MBTA, the construction and assembling of 404 new Red and Orange Line subway cars, the corporation awarded contracts to 36 minority and women-owned companies to create the workforce needed. Of those companies, 32 are based in Massachusetts. They include businesses such as Titan Roofing, New England Promotional Marketing and Greenough Supply.
The MBTA project also included the construction of the $95 million, 204,000 square-foot railcar manufacturing facility in Springfield.
Local workforce
Rivera said that by having a local facility, the workforce that will assemble the new railcars will be local as well.
CRRC MA began building a workforce in partnership with the City of Springfield in the fall of 2016. The workers hired, including industry experts, will assist with technology transfer, engineering resources and assembling for the MBTA project.
The corporation currently employs 124 full-time regular employees, including 64 within the Springfield facility and the rest at their Quincy headquarters. Recruitment is ongoing and CRRC MA reports an anticipated workforce of 200 employees by fall 2018.