Wellness center 4 all
Yoga, massage come to Dorchester's Four Corners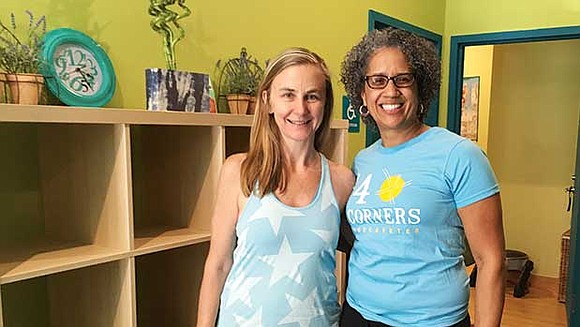 Most yoga classes costs $15 each, with eight offered for $5 a session. A soon-to-be-added chair yoga class — something Rose says seniors asked for especially — will be in the $5 class list. Various types of massage are offered, with an hour-long session costing $65. While customers can pay per class, memberships will be key to stable revenue. About 25 people have signed up for $89 monthly memberships, which include unlimited yoga and one free massage. 4 Corners Yoga + Wellness also offers a yearly membership for $1,000 that includes unlimited yoga and 12 free massages.
A five-year lease with affordable rent enables the studio to offer lower prices on their classes. In addition, a Four Corners Main Streets and City of Boston matching grant will help pay for signage.
Future plans include offering further wellness workshops, such as quarterly acupuncture sessions or meditation, Rose said.
Instructor training
In 2016, O'Donnell launched a yoga instructor training program. She reached out particularly to communities of color, she says, in order to help diversify a field that tends to be white-dominated. Having people with different identities leading programs is important to making them more welcoming, she noted.
She continues to provide optional mentorships for that first cohort of trainees and is preparing for a second cohort to start in Feb. 2018. The program enrolls about 20 people.
O'Donnell also offers professional training workshops for the instructors she employs. She says the studio aims to be a "home" for both students and instructors, and that such professional offerings can help give a sense of belonging to contractors who often split their time between different studios.

Joining forces
Rose and O'Donnell teamed up after each had launched their own separate businesses. The two met when they were separately renting space at The Meeting Point in Jamaica Plain, where Rose offered massage and O'Donnell offered yoga.
When Rose's business was featured in a Bay State Banner article in 2015 that mentioned her intention to expand, the Vietnamese American Initiative for Development (VietAID) contacted her, asking her to consider Dorchester, she said. Rose was aware that O'Donnell, too, wanted a larger space that could accommodate more students, and reached out to her. The two business owners met with VietAID to discuss inclusion in a new building the community development corporation was planning. When that building opened in May 2017, they moved in, and 4 Corners Yoga + Wellness opened its doors.