Wellness center 4 all
Yoga, massage come to Dorchester's Four Corners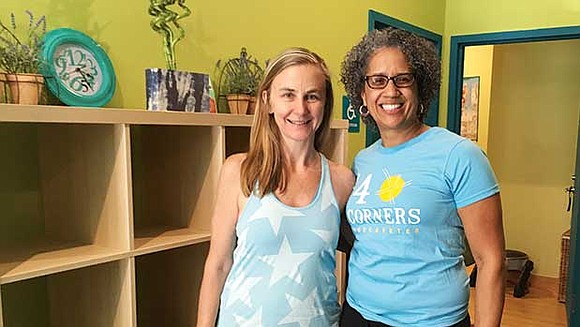 A yoga instructor and a massage therapist have teamed up to bring a broad menu of affordable wellness-centered classes to Dorchester's Four Corners neighborhood. Co-founders Karuna O'Donnell and Christine Rose opened their 4 Corners Yoga + Wellness studio in May, where they say they aim to provide a welcoming environment and yoga classes and other wellness offerings for people of a wide range of ages and abilities.
On the Web
4 Corners Yoga + Wellness:
www.4cornersyogawellness.com
The co-founders regard these practices as a health tool. As such, they offer massages for below-standard rates to remove cost barriers and make the service available as a health benefit, not a luxury, Rose said. Their website notes that massage can be used to decrease pain, improve muscle recovery from fatigue and reduce stress. Rose highlights the firm's emphasis on being trauma-sensitive and adjusting to client's preferences and physical and emotional comfort. Along with general yoga offerings, the class and workshop listings include the YOMA method, movement instruction that incorporates self-defense and empowerment techniques and Yoga of 12-Step Recovery.
"The biggest reason people use [substances] is because they don't want to feel," said O'Donnell, the yoga half of the team. O'Donnell formerly provided visual arts instruction for trauma healing, and now applies yoga for similar purposes. For those with substance abuse problems, yoga practice aims to unwind the core of the person's discomfort, she said. Another piece of the wellness mission is making yoga accessible within walking distance in order to remove the stress of having to travel far to find such offerings, something that O'Donnell says runs counter to wellness. O'Donnell said many community members reported that they otherwise would trek out to Cambridge or other neighborhoods to find wellness services.
O'Donnell and Rose met with the Banner in their sunny Four Corners studio to discuss the growing business.
Getting the word out
As they seek to build awareness and membership, O'Donnell and Rose have been offering free outdoor yoga and chair massages at local farmer's markets over the summer and attending meetings of community and civic organizations to introduce themselves, offer gift certificates as event donations or sponsorships, and learn what community members seek. Overwhelmingly, the response from the Four Corners community has been a desire for affordably priced offerings that are accessible to seniors.
The wellness business
Currently, the studio offers workshops and 28 yoga classes, with new classes being offered every eight weeks. O'Donnell and Rose have 15 yoga instructors working as independent contractors, a standard employment model for studios. At present, classes average about eight people, which O'Donnell said is common for this early stage of a business. Still, she aims to grow enrollment, stating that they could accommodate about 30 students per class. At present, attendees tend to range in age from late 20s to 70s.
The studio features two massage rooms and employs one massage therapist full-time and several part-time, including Rose, who spends the rest of her focus on the business end. They hope to hire another therapist soon, Rose said. In addition, the business has two work-study individuals who help with office administration in exchange for classes.